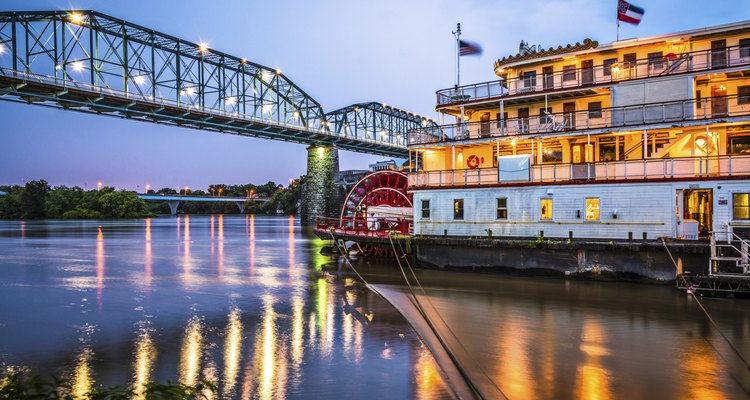 SeanPavonePhoto/iStock/Getty Images
A riverboat dinner cruise is a relaxed way to see the city skyline drift past and a romantic way to celebrate a special occasion. Even better, most cruises have no-stress dress codes, so all you have to do is consider the occasion, the elements and what makes you comfortable.
The Dress Code: Casual
Many riverboats state their dress codes as "casual to formal," which allows visitors to wear what works for the occasion and their preferences. A strictly casual approach might mean cargo shorts, khakis or nice jeans with polo or button-down shirt for men, and a sundress, skirt or nice pants outfit for women. Most men don't wear blazers or ties for the cruise, although women might dress up a little more for business casual or dressy casual looks.
Dress for the Occasion
If you're celebrating a special occasion with others, your clothing can help make it more memorable. Many guests dress up if they're celebrating an anniversary. Some riverboats offer to take your picture, so you'll want to look your best. A group of bridesmaids on a bachelorette outing might dress alike -- all in little black dresses, maybe -- so they can find one another while on board. Members of a reunion outing might all wear school colors.
Dress for the Elements
Before you bring out the fancy footwear, keep in mind you'll be climbing potentially narrow stairways to get on deck to see the sights. Boat shoes aren't required, but stilettos might be a bad idea. Floor-dragging, flowing maxi dresses and danging scarves might be hazardous, too. If you're expecting evening breezes or drizzle, bring a shawl, poncho, sweater or umbrella.
Stylin': Add a Nautical Touch or Resort Casual
Once you've considered the basics, you might want to dress it up just for fun. Try a nautical touch such as blue-and-white stripes or an anchor motif. Just don't overdo it -- one element is plenty. Try resort casual looks such as a pretty tropical-tone sundress with strappy flat sandals and a glam necklace or earrings. Guys can add a hat for a bit of flair, unless it's going to be breezy.
References
Writer Bio
Bonny Brown Jones has been a writer, columnist, copy editor and senior copy editor for newspapers that have included the "Orlando Sentinel," "Miami Herald" and "Columbus (Ohio) Dispatch." Jones has a Bachelor of Arts in English from Ohio State University.
Photo Credits
SeanPavonePhoto/iStock/Getty Images