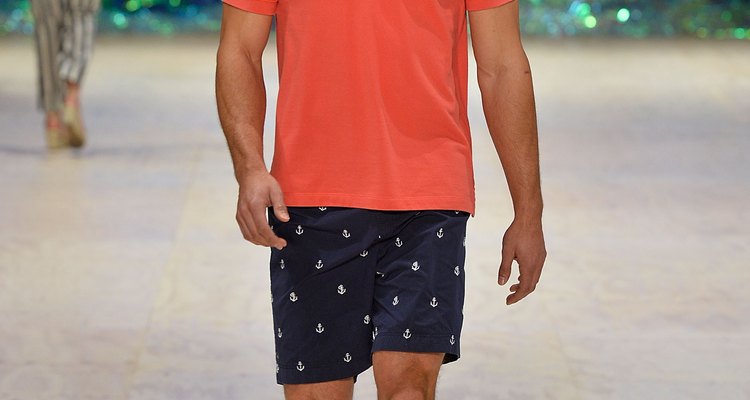 Stefan Gosatti/Getty Images Entertainment/Getty Images
Summer barbecues are the ultimate warm weather festivity and dressing comfortably but stylishly is key. Clothing that is light and airy while simultaneously masculine is your best bet for looking and staying cool when attending a summer time bash.
Denim
Not only are denim jeans stylish and casual, but they're the perfect garment to keep you comfortable at a barbecue. Dark denim jeans are tough and will easily withstand grass stains, sauce stains and any other stains you may encounter at a barbecue. White denim jeans can be a sleek option as well. Pair yours with a vintage T-shirt and sneakers for an ensemble that's appropriate for summertime fun. A chambray shirt can also look ultra-stylish when worn with the right pairings such as colored shorts or khaki pants and a leather belt.
T-Shirts
Whether vintage, logo, character or other, T-shirts are a great way to showcase your personal style while at your next barbecue. Paired with rugged faded jeans or army cargo shorts, T-shirts are hip and comfy, and are ideal for sweltering summer time occasions. Sweat stains are a common hot weather gripe, so keep this in mind when choosing materials. Cotton T-shirts and other breathable fabrics are a safe bet for keeping cool as temperatures climb.
Shorts
Shorts are perhaps the most common summer wardrobe staple, so choose a style that pairs well with different shirts to compile different outfit options. Whether it's a plain pair of khakis or something bold and bright, combine with a T-shirt, polo shirt or even a crisp button-down to look trendy and appropriate at a summer barbecue. For a different look, try camouflage shorts paired with anything from a plain, black T-shirt to a preppy polo.
Accessories
Accessories have the capabilities to make or break an outfit, so choose cool add-ons to take your ensemble to new style heights. The addition of a fedora is a simple way to add oomph to basic pairings, while footwear like casual loafers perfectly seal the deal on a sharp ensemble. Add a brown belt or gold watch for an extra dose of dapper to your overall look.
References
Writer Bio
Sara Cantu has been writing fashion and lifestyle articles since 2009. As a fashion stylist, writer and blogger, she has been published in "Lady Couture" magazine and "RGV" magazine. She holds a Bachelor of Arts in journalism from The University of Texas - Pan American.
Photo Credits
Stefan Gosatti/Getty Images Entertainment/Getty Images