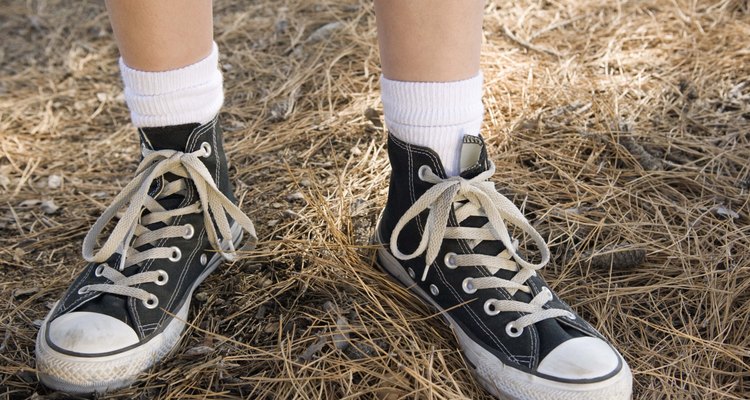 Jupiterimages/Creatas/Getty Images
Considered the first popular Converse shoe, the Chuck Taylor All Star has a unique history and remains a popular sneaker today. The shoe was embraced by basketball players in the early 20th century and later incorporated into men's fashion as a casual alternative footwear option. Although the high-top shoe's basic design has not changed since its inception, Converse's All Star shoes are now available in a variety of colors, patterns and special editions.
Converse Rubber Company
The Converse Rubber Company was established by Marquis M. Converse in Massachusetts in 1908. The company made rubber shoes, such as galoshes, before manufacturing footwear for the athletic market. In 1917, Converse introduced the All Star, the world's first basketball shoe. The original All Star shoe was made from canvas that covered the upper ankle and a thick rubber sole. The shoe's coloring was natural brown with black trim. By the 1920s, the shoe was available in black canvas or with a leather upper ankle material.
Chuck Taylor Joins Converse
The Converse All Star was mass-produced for the elite basketball market, but its popularity increased with the company's first professional endorser, Charles Hollis "Chuck" Taylor. Chuck Taylor was a basketball player who played for the original Celtics team, as well as the Buffalo Germans and the Akron Firestones.
Taylor joined Converse as a salesman and brand evangelist in 1921. He traveled the country; hosted basketball clinics; and promoted the All Star to professional, amateur and high school players alike. In 1932, Converse added Chuck Taylor's name to the All Star's ankle patch design. Taylor was Converse's most successful salesman and accurately dubbed him the "ambassador to basketball."
Converse Dominates Sports World and Beyond
The All Star made its first global appearance at the 1936 Olympics. Taylor helped design the shoe's model that included a patriotic-inspired white canvas upper with red and blue trim. Taylor also served as a fitness consultant for the U.S. Navy and Air Force, and coached regional basketball teams for the military. Eventually, Converse's All Star became the official sneaker of the U.S. Armed Forces. After World War II, Converse released a black and white version of the All Star that has become the sneaker's classic color combination.
Today's All Stars
In 1957, Converse released a low-cut version of the All Star. At that time, approximately 80 percent of the entire sneaker market belonged to Converse. The shoe remains a big seller for women, kids and men off the court, with versions in unconventional colors and patterns.
References
Writer Bio
Diane Bautista has more than seven years of professional experience writing for a variety of industries including fashion retail, communications technology and nonprofit. She currently works as an advertising copywriter and holds a B.A. in English from Washington State University.
Photo Credits
Jupiterimages/Creatas/Getty Images