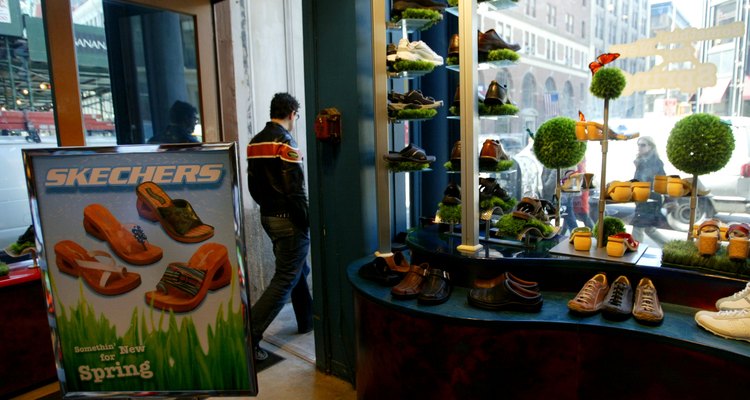 Chris Hondros/Getty Images News/Getty Images
Compared with many of its competing brands, Skechers is a relative newcomer to the casual athletic shoe scene, making its debut in the early 1990s. Headquartered in the Los Angeles area, the brand is known for its brash style and unabashed flirtation with celebrity culture, courting not just athletes but musicians, actors and reality-TV stars to design and advertise Skechers products. In less than three decades, it has risen to be one of the top five sports footwear brands in the world, as noted by "Forbes. "
The Beginning
Skechers was founded in 1992 by Robert Greenberg, who had previously helmed the popular shoe brand L.A. Gear. Greenberg hired his son, Michael, as president. Originally, the company called Skechers was intended to act as a U.S. distributor for Doc Martens boots. Robert Greenberg started designing and marketing men's casual athletic shoes to appeal to a young, urban demographic, much as L.A. Gear had appealed to a young, urban women's market. The breakout success was 1993's "Chrome Dome" shoe, an androgynous, pre-scuffed model that was soon picked up by major chains such as Nordstrom.
A Slice of the Athletic-Wear Pie
After Chrome Dome became a hit, Skechers began to ride a wave of successes. Soon it was positioned to challenge athletic-wear giants such as Nike and Reebok for a slice of their business. Skechers chose not to emphasize the performance aspects of its athletic shoes, but rather their streetwise style. This paralleled the rise of athletic shoes as street-wear in general throughout the late 1990s.
Experimental Marketing
Skechers also gained an early reputation for innovative and aggressive marketing tactics. The brand buys an outsized chunk of print and television advertising space compared to its competitors. It courts celebrities such as Britney Spears and Kim Kardashian. Skechers has also been known to run innovative promotional campaigns, for example, offering free pagers and phone cards to customers.
Skechers in the 21st Century
In 1999, Skechers went public. Although the stock was slow to warm up for investors through the first year, by 2000 the stock began to rise steadily and maintain its growth through the next decade and beyond. Investors started calling Skechers a "strong buy." In 2014, "Forbes" magazine called Skechers "the hottest major brand in the U.S." after it officially became the fifth largest sneaker company in the world in terms of market share.
References
Writer Bio
Lori A. Selke has been a professional writer and editor for more than 15 years, touching on topics ranging from LGBT issues to sexuality and sexual health, parenting, alternative health, travel, and food and cooking. Her work has appeared in Curve Magazine, Girlfriends, Libido, The Children's Advocate, Decider.com, The SF Weekly, EthicalFoods.com and GoMag.com.
Photo Credits
Chris Hondros/Getty Images News/Getty Images