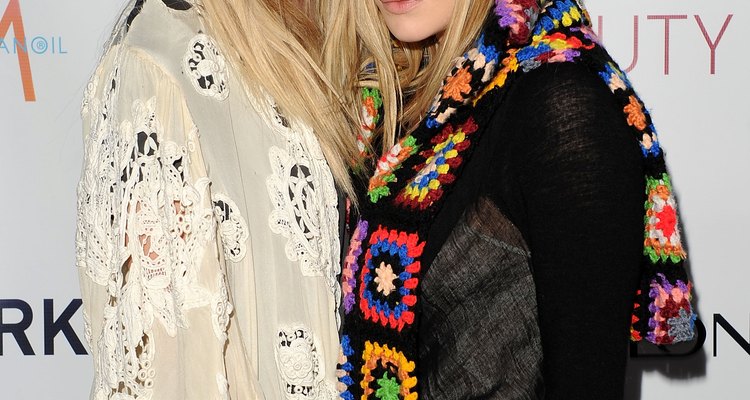 Stephen Lovekin/Getty Images Entertainment/Getty Images
Casual, creative, comfortable -- bohemian style has a mellow flamboyance embraced by many artists. Often shortened to "boho," bohemian mixes graphic hippie prints with rich colors and romantic, lacy florals. While this artsy style is laidback enough to include a variety of looks, it's easy to get carried away and wind up with an outfit that clashes or resembles a Halloween costume, so heed a few tips and you'll be boho with the best of them.
BoHo Style: Artistic vs. Romantic
Bohemian and romantic styles share a lot of common elements, including lace, ruffles, florals and pastels. Romantic outfits incorporate only these and other soft, delicate colors and textiles. To transform a romantic ensemble into an artistic boho look, add pieces that have an earthy, handcrafted edge. For example, transform an ivory lace empire dress into the base for a boho outfit by pairing it with brown leather combat boots, an olive, belted sweater coat, and a rose-colored, crocheted beanie.
Laid-Back Layers and Artsy Accessories
A long, flowing broomstick skirt paired with layered tank tops, a crocheted cardigan, a floppy hat and lots of bangles -- this is the epitome of the thrown-together appearance cultivated by the artsy bohemian type. But it's not the only way to achieve the look. Capture this easygoing boho spirit by mixing vintage pieces from multiple eras with dresses or separates that have contrasting colors, prints and textures. For example, layer a short, tribal-print tunic dress with a solid-taupe men's vest and several colorful scarves. Complete the look with a few long, beaded necklaces, an armful of thin, metal bangles, a vintage fedora and canvas espadrilles that match a color in the tribal print.
Rare Apparel For Original Outfits
Originality is a must for any bohemian outfit, which means matching coordinates simply won't do. Boho artist types avoid mass-manufactured, cookie-cutter clothing by filling their wardrobes with rare apparel and accessories discovered in vintage shops, flea markets and art fairs. Unfortunately, unique pieces -- such as vintage caftans and prairie dresses, or hand-strung necklaces and bracelets -- sometimes come with a pretty hefty price tag. Minimize the impact on your pocketbook by building a boho wardrobe that also incorporates bohemian-inspired department store separates that may be mixed and matched with vintage pieces. For example, team an off-the-rack, pale-yellow, floral sundress with a deep-red, hand-woven, fringed poncho and a pair of black motorcycle boots.
Bohemian For Any Body
Layers, loose-fitting lengths, and eclectic accessorizing are trademarks of the bohemian style, but not every body type can pull off baggy clothes and loads of jewelry. Luckily, as long as the look incorporates non-matching layers, interesting accessories and a bit of the hippie vibe, the bohemian style can be short or long, loose, or fitted, and even vibrant or pale in color. Build a bohemian wardrobe of artsy colors and prints, but choose pieces cut in styles that highlight your body. For example, steer clear of A-line broomstick skirts and tight, layered tanks if you're a pear shape. Opt instead for an earthy-brown, long, flared skirt and a lavender ruched top layered with an ivory crocheted sweater that's more fitted than loose. Finish the look perfectly with a pair of brown, leather granny boots.
References
Fashion 101: A Crash Course in Clothing; Erika Stalder
What Not to Wear; Trinny Woodall and Susannah Constantine
Resources
Writer Bio
A former art instructor, high school counselor and party planner, Christine Bartsch writes fashion, travel, interior design, education and entertainment content. Bartsch earned a Bachelor of Fine Arts in communications/psychology/fine arts from Wisconsin Lutheran College and a creative writing Master of Fine Arts from Spalding University. She's written scripts for film/television productions and worked as the senior writer at a video game company.
Photo Credits
Stephen Lovekin/Getty Images Entertainment/Getty Images