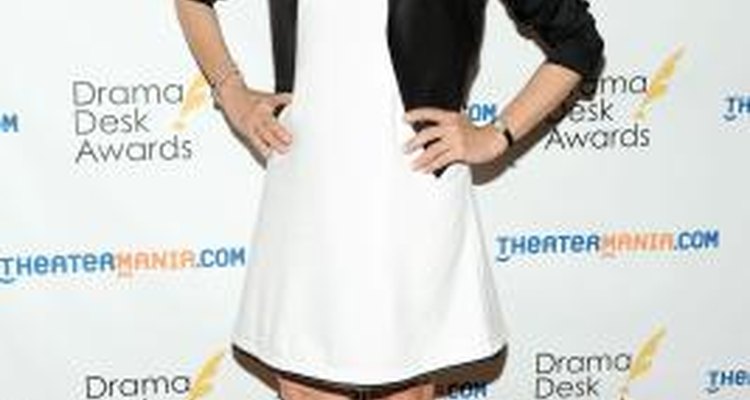 Ben Gabbe/Getty Images Entertainment/Getty Images
If you find yourself in possession of a bland dress by decision or default, don't despair. Whether the frock is a gift or your own buying choice, designer label or department store knock-off, you can take it from drab to fab by treating it as a blank canvas that with the right accessories becomes a fashion masterpiece.
Bags and Shoes
These may be your strongest allies in snatching a simple dress from the jaws of boredom. Go strong with color, print and embellishment. Have your shoes and purse coordinate without being the same exact color or pattern. If you're wearing a plain black or tan dress to an after-hours office party, for example, wear an animal print on your handbag and choose a solid color from the same color family for your shoes. Be intrepid – select a bag with an unusual shape and shoes in a stylish silhouette such as colorful wedges, reptile-textured slingbacks, funky boots or gladiator heels that lace partly up the calf.
Topping It Off
Jackets, sweaters and wraps can work wonders on a tired dress. Depending upon the cut, opt for a bolero, waist-crop or longer jacket. All the better if the jacket has decorative trim or closures, or is colorful and textured like the smart and chic tweed jackets popularized by Coco Chanel. To avoid looking frumpy when pairing the dress with a sweater or wrap, select a knit with a lapel, an asymmetrical cut or a hint of glimmer in the weave such as Lurex threading. Go for a colorful print if your other garments are plain, or something in a solid if you're wearing other patterns and colors. The key is balance.
Drama with Jewelry
A plain dress is no time to go minimal with modest, forgettable jewelry. You need to push the envelope. Try chandelier or shoulder-dusting earrings with some sparkle or shimmer. A large statement necklace or multiple ropes of pearls can enhance the neckline. A single statement bracelet, several stacked bangles or a dramatic watch are other options. Another enhancement is a brooch or flower pin at the breast or waist. A jeweled, floral or feathered hair ornament can be a nice addition for evening or a special occasion. Balance your jewelry to avoid the faux pas of over-accessorizing.
More Styling Advice
Belts can inject new life into a boring dress. A wide or patent leather style can add drama while a thin belt creates a polished look. Make sure your accessories are occasion-appropriate. For example, give a plain navy shift dress a cropped red jacket, colorful scarf, pumps and pearl jewelry for work. For a night on the town, swap those accessories for booties, silver hoop earrings, a sparkly clutch and a leather bomber jacket. Have fun experimenting with pieces that are outside the box and showcase your personality.
References
"Harper's Bazaar Great Style: Best Ways to Update Your Look"; Jenny Levin, 2007
Writer Bio
LaMont Jones was an award-winning fashion and beauty editor for a decade at the "Pittsburgh Post-Gazette." A five-time nominator and judge of the CFDA Awards, he covers New York Fashion Week regularly. Jones is a 2011 inductee into the Pittsburgh Fashion Hall of Fame and coaches fashion models.
Photo Credits
Ben Gabbe/Getty Images Entertainment/Getty Images