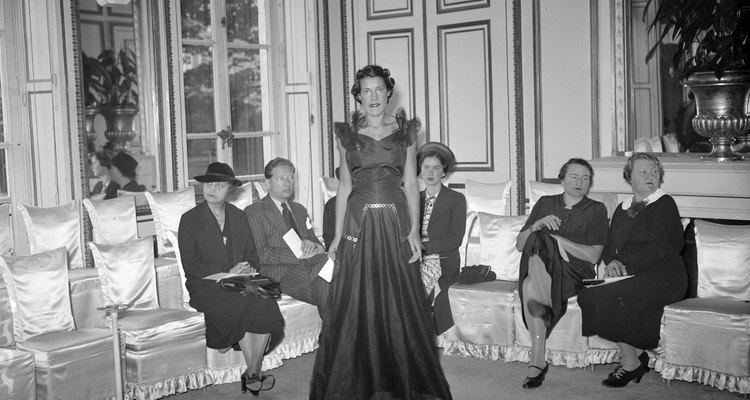 London Express/Hulton Archive/Getty Images
With the passing of the Roaring '20s, fashion shifted from straight lines and boyish flapper looks to elegant, modern dressing in the 1930s. Puffed sleeves and bias cut, natural waist dresses demurely emphasized the female form. Skirt lengths were modest, generally hitting midcalf, and shoes were on the sensible side, with rounded toes and thick, modest heels. Two-tone spectator shoes were the footwear of choice, and ankle strap heels were popular for sophisticated evening wear.
Wall Street Woes
The state of the economy had a strong impact on clothing styles in the 1930s. After the 1929 stock market crash, women needed to shop less and repurpose clothing to stretch the budget. Zippers were introduced during this era, and incorporated into existing styles. Hems were let down, sleeves added and styles changed to extend the wear of every garment. Depression-era style found women wearing the same dress morning to night, a change from multiple wardrobe changes previously employed for specific daytime activities.
Silver Screen Style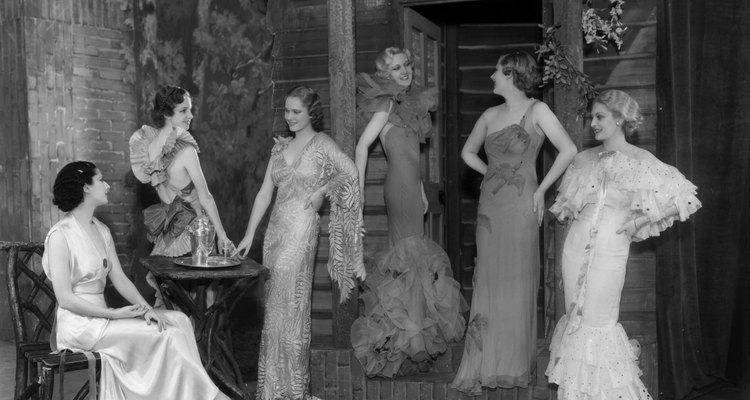 Sasha/Hulton Archive/Getty Images
Screen idols greatly influenced fashion in the 1930s, ushering in the glamorous styles of movie stars such as Greta Garbo. These sophisticated designs were decidedly feminine, with the emphasis on a tiny waist and a curvy torso, often further accentuated by shoulder pads in jackets and blazers. Fitted bras were introduced, and movie queens appeared in white satin bias cut evening gowns, slinky cocktail dresses and glamorous pink negligees, inspiring women all over the world to clamor for the same.
Hourglass Silhouette
As the decade progressed, the trend shifted to wider shoulders, which naturally set off narrow waists, resulting in the much admired hourglass figure. Jackets and coats frequently incorporated this padded shoulder trend, and women embraced the figure-flattering cut throughout the 1930s. A well-proportioned body was now the feminine ideal and remained a fashion staple through the next decade.
Finishing Touches
Cloche hats, purses and gloves were requirements to complete the well-dressed 1930s woman's ensemble, frequently matched to set off a particular outfit. Short, wrist-length gloves were worn for day, with longer, more glamorous opera lengths chosen for evening wear. New synthetic materials were introduced, and nylon stockings became the rage. Fur collars, picture hats, beaded purses, velvet piano shawls and costume jewelry were in-demand accessories for the fashion conscious 1930s woman.
References
Writer Bio
Pamela VanderWerf is a writer and editor with experience in public relations, advertising, marketing and journalism. She graduated from Indiana-Purdue University and resides in Los Angeles, where she writes on design, health, consumer issues, fashion, lifestyle and real estate, among other topics.
Photo Credits
London Express/Hulton Archive/Getty Images