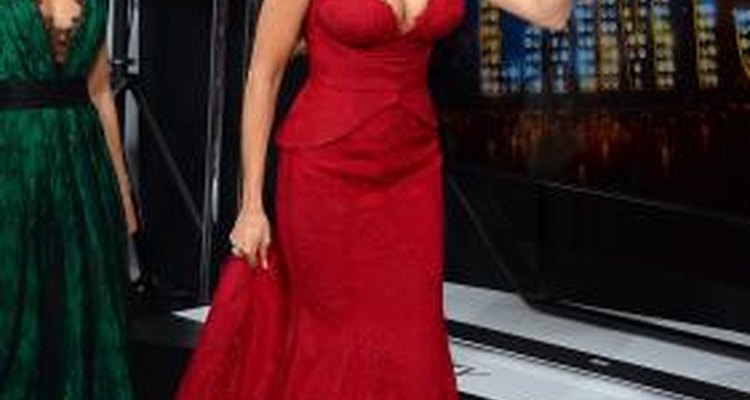 Jason Merritt/Getty Images Entertainment/Getty Images
Magazines and fashion television offer a lot of advice on how to dress right for your body type, but figuring out what body type you are and what you should be wearing often isn't as simple as the press makes it out to be. Learning about the differences between apple and hourglass shapes may help you determine your shape and how to dress to look your best.
Figuring Out Figures
Understanding body shapes requires that you look beyond the number on the scale. You can have a proportionate hourglass figure at a size 2 or a size 20 or be an apple-shaped petite size 4 or a tall, apple-shaped size 18. Body types or figure types are about the proportions of your parts to one another, your skeletal structure and how your body deposits weight and fat. One of the best ways to get an idea of the overall shape and proportion of your body is to snap a photo in your undies or a basic, tight tee shirt and leggings. Print it or use a program on your computer to outline the shape. You'll see where you're smaller and where you're larger with ease.
Awesome Apples
Apple-shaped figures are often relatively slim-hipped, with slender limbs and great legs. They typically carry weight through the mid-section and lack a defined waistline. In terms of the tape measure, an apple may have a larger waist than hip measurement or they may be relatively equal. Bust size can vary widely, from a generous bust to less well-endowed. For most apple-shaped women, emphasizing the arms and legs and downplaying the abdomen creates the most flattering silhouette.
Happy Hourglasses
Hourglass figures can be tall or short, slender or heavy. Regardless of height and size, hourglass figures are defined by a generous bust, curvy hips and narrow waistline, typically with very similar bust and hip measurements. Taller hourglass figures typically have a longer torso and will find it less challenging to dress their shape, but both taller and shorter hourglass figures should choose styles that emphasize their curves and nip in at the waist. Looser garments can easily look sack-like and shapeless on an hourglass figure.
Dazzling and Dressed
For both apples and hourglasses, a simple rule applies: draw the eye to your best bits. Apple-shaped figures should embrace empire waistlines, flowing tops and shorter hemlines. Splurge on amazing shoes to show off your legs and look for tops that emphasize your bust and collarbones, or sleeveless styles to show off your arms. Hourglass figures need structured garments, with a nipped-in, narrow waistline and space for a generous bust. Pencil skirts, belts and fitted cardigans will flatter, along with well-fitting trousers, but you may need to visit a tailor for alterations to account for your curves and smaller waist.
References
Knit to Flatter; Amy Herzog
Writer Bio
With a master's degree in art history from the University of Missouri-Columbia, Michelle Powell-Smith has been writing professionally for more than a decade. An avid knitter and mother of four, she has written extensively on a wide variety of subjects, including education, test preparation, parenting, crafts and fashion.
Photo Credits
Jason Merritt/Getty Images Entertainment/Getty Images