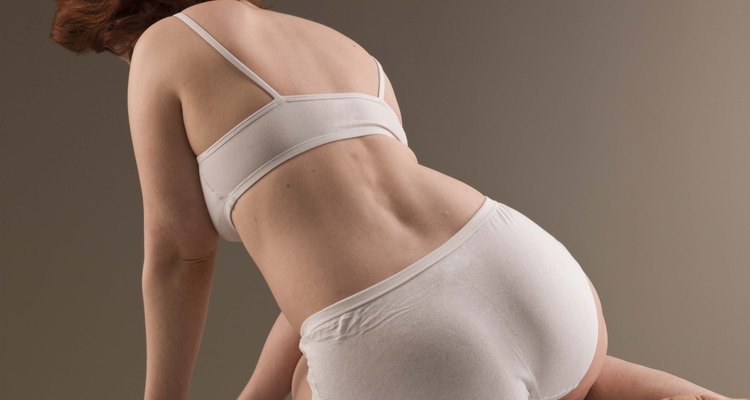 Jupiterimages/Polka Dot/Getty Images
As Marilyn Monroe might agree, dressing exceedingly curvy figures can prove challenging. Small waists and curvy, larger hips epitomize femininity and should be considered an asset; but at the same time, having this body type makes finding the right clothes somewhat difficult. Through thoughtful, wise selections, the right clothes can turn what seems to be a style problem into an aesthetic blessing.
The A-line
Meet the best friend of all women with curves, the A-line silhouette. In a skirt or dress, the A-line starts small at the natural waist and flares out with a full, exaggerated skirt, emphasizing the slimmest part of the body and cleverly concealing the hips. A-lines have been around for what seems like forever and exist in many styles, including the classic little black dress. Thankfully, this silhouette will likely not be going out of style any time soon.
Denim Dos and Don'ts
For girls with curves, the skinny jean trend should typically be avoided. The close-fitted style of these jeans can over emphasize hips and create an unbalanced look. Instead, go for wider-leg cuts, such as a bootcut, flare or trouser cut. Pair these with some type of heel or wedge to help your legs look nice and long.
Peplum Tops
Although some women might be skeptical, the peplum top is very flattering for a small waist and can enhance a curvy silhouette. This style essentially provides all the fit and flatter of an A-line dress in the form of a top. Just be sure that the peplum top doesn't stick out too far from your body or have loads of extra fabric; in that case, it could add bulk to the hips as opposed to simply exaggerating your hourglass shape. Available in blouses, tanks, sweaters and T-shirts, the peplum top should be paired with tailored, simple pants. Rather than just a passing phase, this trend seems to be good for the long haul.
Belts
Over blouses, fuller tops, dresses and sweaters, the belt is every curvy woman's hardest-working accessory in defining a small waist and giving a slim appearance. In a plethora of styles, sizes and materials, belts add the perfect punch to any outfit. Pair a belt with the already miracle-working A-line dress and say hello to the dream team. Don't forget to top off cardigans and chunky sweaters with a belt for extra figure flattering. There's essentially nothing in a curvy girl's closet that won't benefit from the addition of a belt.
References
Writer Bio
Jennifer Richardson-Moulaison has been a writer since 2007. Her work has been featured in publications such as "Tucson Lifestyle Magazine," "Oro Valley/Marana Magazine" and various online publications, including the Sacramento Fashion Week blog. Richardson-Moulaison holds a Bachelor of Arts in English and creative writing from the University of Arizona.
Photo Credits
Jupiterimages/Polka Dot/Getty Images