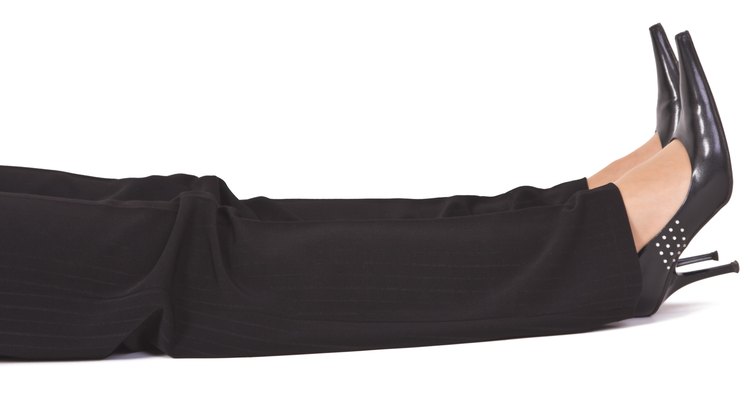 Radu Razvan/iStock/Getty Images
Whether you've spent $50 or $250, your entire outfit won't look right if your dress pants are not hemmed at the proper length. Though it may be tempting to hem your pants at a compromising length to compensate for both heels and flats, women should choose one or the other. Women should also keep in mind that each style of dress pant looks best at various hemlines and tailor pants accordingly.
Wide Leg
When wearing wide-leg dress pants, you want the hem to fall just shy of brushing the floor. To achieve this leg-lengthening look without sullying the bottom of your pant legs, aim to have the hems hang ½ to ¾ of an inch from the ground. Tailor your pants while wearing a heel height you will always be wearing with those specific pair of pants. If you want to be able to wear both flats and high heels with your pants, buy two of the same pair and have them hemmed for both lengths, suggests Real Simple magazine.
Straight Leg
Straight leg pants are a bit more versatile than their wider-legged cousins, providing women who can't afford to buy multiple pairs of pants for different shoes a more budget-friendly option, as straight leg pants can work with shoes of various heights. Hemming your straight leg pants just above the ankle bone will highlight the decorative details on pretty flats, or give the illusion of longer legs when paired with a heeled shoe of any height. Having a cuff end right above the ankle also allows women the chance to show off a tasteful amount of skin in an office setting.
Cropped
Cropped dress pants are a great option for warmer weather months, and like straight-leg pants, are a bit more forgiving when it comes to hemlines and shoes. To avoid making the legs look squat, cropped pants should have a narrow fit all the way down the leg and be hemmed right above the ankles. Women seeking shorter pants should look for hemlines that hit at the most slender part of the lower leg between the calf and ankle, where the skin starts to taper, making the legs appear long and lean. While ankle-length pants can flatter many body types, capri lengths won't flatter shorter women, as the cropped pant cuts off the leg line and makes them appear shorter than they are.
Skinny
For women with lean body types or long legs who aren't afraid to don a shape-hugging silhouette, skinny-cut dress pants are a versatile option, as they can be hemmed on the longer side then cuffed to a flattering ankle length depending on the outfit, notes Lucky magazine. If you're looking for a way to get the most use out of a single pair of pants, consider investing in a product designed to give pants a temporary hem with magnets. By being able to make a temporary cuff wherever you'd like, you can customize your pants to fit any shoe.
Writer Bio
Virginia Pond is a Chicago-based writer. She earned her bachelor's degree in English from Indiana University.
Photo Credits
Radu Razvan/iStock/Getty Images