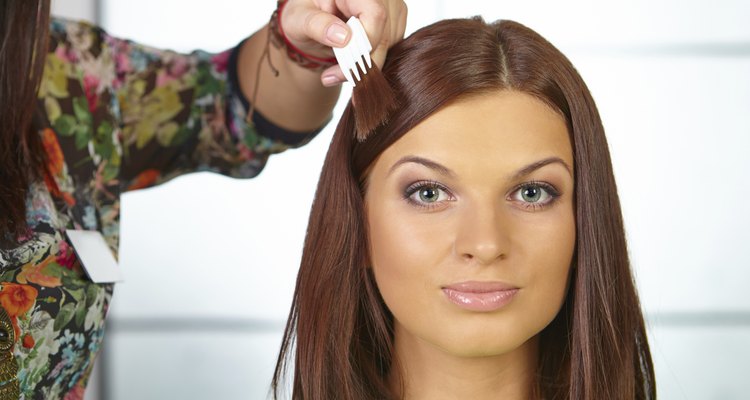 Alexandr Dubovitskiy/iStock/Getty Images
The right hair color can add that innate glow to rich, olive skin and emphasize your distinctive look. Whether you want to add warmth and shine to your natural hair color or go for a brand new style, use your skin undertones as a guide to the right shade.
Finding Your Olive Tone
We all have variances in complexion due to the undertones in our skin. Most skin is classified as warm, cool or neutral toned. Warm olive skin has yellow undertones, best complemented by an equally warm or golden hair color. If you have slightly blue undertones and look better in green over red, you likely have cool olive skin. Neutral-toned olive skin is a blend of pink and yellow undertones, and the easiest to pair with any hair color. If you're still not sure, hold up a red shirt near your face, and then a blue -- if the warm red color looks better, that's your skin tone, and the same for cool blue.
Going Blonde
Shades of blonde are the trickiest hair color to pair with olive skin. Whether your olive skin is warm, cool or neutral, the biggest issue with going blonde is finding a color that will not wash out your skin. For warm-toned olive complexions, look for medium, golden shades of blonde color; this will enhance the natural glow of your skin tone. Cool-toned olive skin is best complemented by a sunny strawberry blonde to balance cool undertones. If you have neutral olive skin, try a more beige blonde color; since your olive tone is the most naturally balanced, blonde hair with cooler highlights will work better for you.
Bold Brunette
Brunette hair colors are the easiest and most flattering to all tones of olive skin. From black to golden brown, this color family offers the most options for olive skin tones. Brown dyes with a caramel base or highlights enhance warm-toned olive complexions. Try a medium golden brown or go for rich chocolate brown with caramel highlights. Play-up cool-toned skin with equally blue-toned black hair color or an ashy, cool dark brown. If you have neutral olive skin, you're in luck. Choose from just about any shade of light to dark brown -- or even black. Add depth to medium or dark brown with golden highlights.
Sultry Redhead
If you're looking to make a statement, red hair color is the way to go. This bold shade can be especially flattering on all tones of olive skin due to its innate warmth. Aim towards the more bright, orange-copper red tones to complement warm olive skin. Weave in golden highlights to enhance your tone even more. Stick to more purple-toned red hues for cool olive skin, like burgundy red. A shade that is too light can appear brassy next to your skin tone. Neutral olive complexions can select any shade of dark red to warm up their skin, and auburn is always a universally flattering choice.
References
Writer Bio
Marie Sporich is a SoCal native, classical ballerina and devoted Yogi. She holds an A.A. in product development and B.S. in business management from the Fashion Institute of Design and Merchandising. She has spent nearly 10 years in retail, is a published writer and certified wedding planner.
Photo Credits
Alexandr Dubovitskiy/iStock/Getty Images