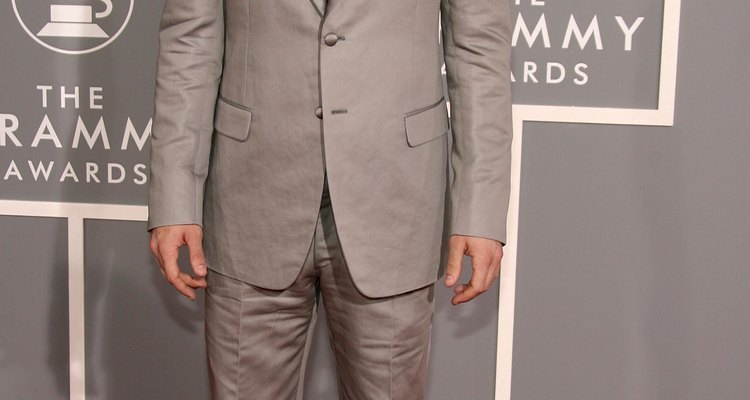 Frazer Harrison/Getty Images Entertainment/Getty Images
Taupe -- the color you get when you mix gray with brown -- is a staple color for a suit and an alternative to the traditional gray, navy and black. The cool, earthy tone of taupe allows you to pair it with a wide range of ties in complementary colors. Determine the shade of taupe before you select the right tie.
Plaid Taupe Suit
Plaid suit styles in taupe make a subtle yet striking style statement, and they are suitable all year-round. This mixed-neutral color of suit may feature big bold check patterns or tight checked patterns. Wear a taupe suit that has a bold-check plaid pattern with a heather-gray shirt and a dark gray solid silk tie. The taupe and grays are complementary to each other. A taupe suit with a small dark brown plaid can handle a more detailed tie. Blue, greens and reds are lovely contrasting colors to taupe. Wear a subtle taupe plaid with a pale blue button-down and a dark blue tie with silver polka dots or stripes.
Varying Taupe Blends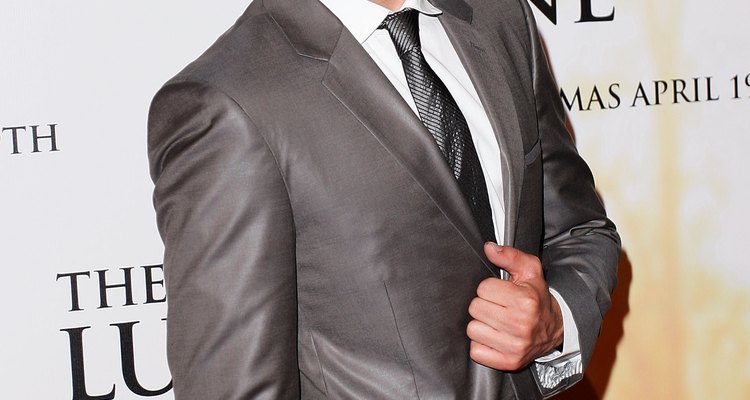 Lisa Maree Williams/Getty Images Entertainment/Getty Images
Classic taupe is an equal mix of gray and brown, but there are also more sophisticated and stylish shades of taupe suits that alter the way you should accessorize them. Gray-taupe is more steely and cool than the traditional taupe. It looks best styled with charcoal gray or navy blue ties and black shoes. Khaki-taupe has more brown in it than gray, making it a warmer shade. This shade of taupe suit looks better with colors that go with tan -- warm reds, rich yellows, dark blues and olive greens. Wear a white button-down shirt and ties that incorporate those colors and a plaid or gingham pattern. Wear brown shoes and belt with this look.
Slim Ties for Slender-Cut Taupe Suits
Taupe suits with a more fitted cut are slimmer throughout the body and legs, and a narrow tie best complements this sleeker cut of suit. If your suit is a slim-cut, medium to dark taupe color made of a matte wool material, wear a medium blue shirt and a darker-blue thin tie in shiny silk material to mix textures. A slender blue chambray tie with a pale blue shirt and a taupe suit is a more casual-cool suit style. To max out your slender-cut taupe suit style, layer a patterned blue, tailored shirt -- paisley or plaid --- with a slender, geometric print silk tie in complementary colors. Blues, browns and grays are solid choices.
Ties for a Light-Taupe Suit
Light taupe pairs beautifully with pastels or bright warm-weather colors, such as periwinkle or orange. Wear a pale taupe tailored suit with a white shirt and a vibrant, solid-colored tie such as fuchsia, orange or periwinkle. For a more subtle approach, wear a pale pink top and darker pink tie -- either solid or with a white pattern -- and pair with tan shoes and belt. Either of these outfits are an ideal summer suit style for an outdoor wedding, event or meeting.
References
Writer Bio
Angela Bakke is a Los Angeles-based writer and reporter with more than a decade of experience covering fashion, beauty, the arts and entertainment. She has interviewed some of the most famous people in the world and covered stories for Beyond Cinema, Hollywood.com, ReelzChannel, CNN.com and Celebs.com.
Photo Credits
Frazer Harrison/Getty Images Entertainment/Getty Images