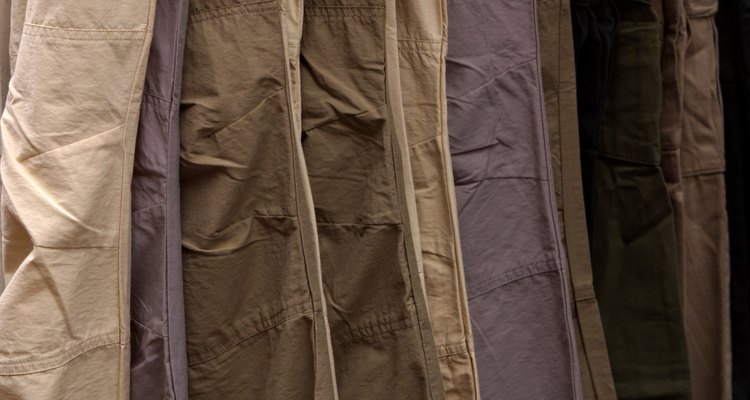 Hemera Technologies/AbleStock.com/Getty Images
Men's khaki pants come in a multitude of colors, with the most popular ranging from white, beige and tan to taupe, slate gray and brown. Guys from all walks of life -- working in all industries -- choose khaki pants as a casual, wardrobe staple that evokes a "smart casual" attitude. Matching your khaki pants with dress shirts is easy when you first consider the pant's color, how they fit and where you are going.
Consider the color of the pants. If the khaki pant is pale in color -- such as beige or tan, you'll want to go lighter on the shirt hue. Blue, grey and white shirts give off the vibe that you are confident in yourself -- and the work at hand. Light-colored khakis look good with a thinly striped, light blue and white shirt or pale grey oxford, for example. Dark khakis, such as taupe or slate, pair nicely with greys and greens. It doesn't matter whether you choose solid colors or patterns -- the key is to choose hues that compliment the khaki's color.
Look at the pant style. Khakis usually come in a cotton-twill fabric and feature pleated or flat-front styles, tapered legs, loose-fitting styles with a variety of seams, tabs on the waists and more. The trick to matching your dress shirt is to think about how dressy or casual you want to appear. Flat-front, fitted khaki pants or those with side tabs, for example, look best with an oxford shirt and collar buttons. A more slouchy khaki pant -- featuring additional pockets or buttons -- looks best with more casual button-down shirts, such as a short-sleeved gingham or plaid shirt. This style shirt can either be tucked in with a belt or left with hanging tails.
Think about where you are headed. If your day consists of being at the office, your shirt colors should be representative of the industry for which you work. Creative workplaces play host to more vibrant colors, such as tangerine and purple, while traditional industries require more subdued shirt tones -- although jewel tones can work in the right environment. If you are headed for errands or meeting a friend for coffee, wear a looser khaki pant and pair it with a linen or lightweight button down. Roll up the sleeves for the ultimate easy look.
References
Writer Bio
Based in Los Angeles, Lisa Finn has been writing professionally for 20 years. Her print and online articles appear in magazines and websites such as "Spa Magazine," "L.A. Parent," "Business," the Famous Footwear blog and many others. She also ghostwrites for mompreneurs and business owners who appear regularly on shows such as Ricki Lake, HGTV, Carson Daly and The Today Show.
Photo Credits
Hemera Technologies/AbleStock.com/Getty Images