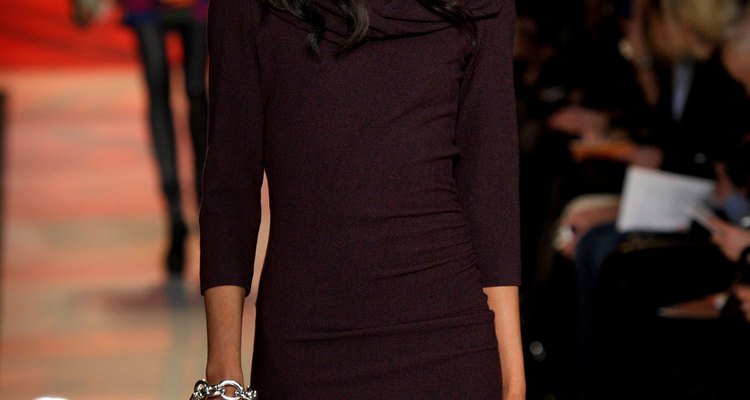 Scott Gries/Getty Images Entertainment/Getty Images
A burgundy dress is a gorgeous wardrobe staple for fall that will easily earn its keep in your closet and become a favorite go-to dress. The rich brown-red shade is universally flattering and stylish. You can essentially create an entirely new outfit by the way you accessorize it. Make the most out of your burgundy dress and enhance it with an equally fashionable clutch in the right color.
Matchy Match
A simple way to accessorize a burgundy dress is to match it with a burgundy clutch. This wine-colored shade often varies, from more red to more brown or slightly more purple, and has varying levels of maroon, bordeaux and oxblood. Any variation of true burgundy will go nicely with your dress and a pair of patent-leather nude or black pumps breaks up the look just a bit. To make a bit bolder style statement, use the same colors but mix textures. A clutch purse made out of pony hair, faux-fur or beaded material will add a visually interesting texture against a cotton, wool or satin burgundy frock.
Keep It In the Color Family
Another classic style for accessorizing your burgundy dress is to pull together several pieces that are all in fall neutral colors. Keeping your dress, clutch and shoes all in the same dark, neutral color-family creates a stylish look that is not quite monochromatic -- but just as easy on the eyes. Wear a wine-colored coat dress with a wide black belt and layer it with espresso colored tights and matching suede ankle boots. Finish off your style statement with a menswear-inspired portfolio clutch in deep mahogany or black. To lighten the look, opt for a clutch that incorporates softer neutrals such as ivory, heather gray or taupe.
Accent Clutches
On a night you are feeling sassy or if you have a particularly special burgundy dress, skip the subtleties and accent your dress with a bold color or print. A burgundy leather or lace dress is the perfect opportunity to bring out your special-occasion clutch, and an animal-print clutch is just what the stylist calls for. Use a pony-hair leopard-print clutch with gold detailing and match your shoes to the clutch by wearing either black or dark brown heels. Add gold statement earring to tie the whole look together. A bright-red or raspberry, patent-leather fold-over clutch makes for a sleek and elegant style that pops against burgundy.
Complementary Colors
If you have a whimsical or trendy burgundy dress -- such as a tennis dress that has a pleated skirt -- accessorize with an unconventional color combination. Colors complementary to burgundy are your best bet. Turquoise, chartreuse and green-gold shades such as marigold are all beautifully unexpected color complements to burgundy shades; because they are on opposite ends of the color-wheel, they bring out the best in burgundy. A soft-pouch clutch that has a dark neutral base -- think charcoal with a pattern that incorporates blues and greens -- looks fashionably chic with a burgundy peplum or pleated dress. It complements both the fluid cut and bold color of the dress for a sophisticated yet playful style statement.
References
Writer Bio
Angela Bakke is a Los Angeles-based writer and reporter with more than a decade of experience covering fashion, beauty, the arts and entertainment. She has interviewed some of the most famous people in the world and covered stories for Beyond Cinema, Hollywood.com, ReelzChannel, CNN.com and Celebs.com.
Photo Credits
Scott Gries/Getty Images Entertainment/Getty Images