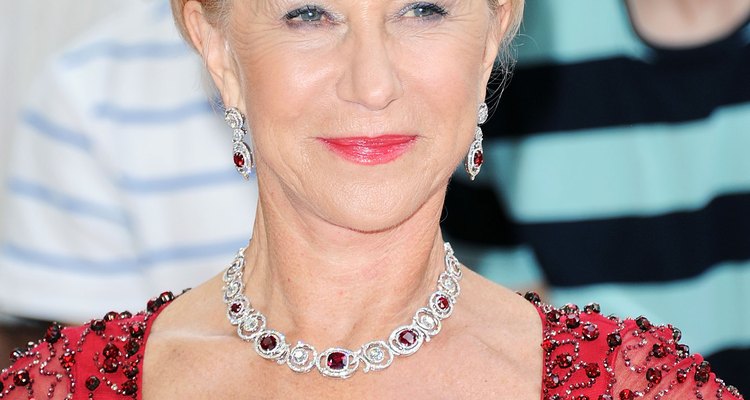 Stuart C. Wilson/Getty Images Entertainment/Getty Images
As women age, their hair does, too; hair color that was once appropriate and flattering can make them look older. It's essential to seek out the proper hair color that successfully complements your age, while providing a more youthful and vibrant appearance. It's important not to go too dark or, if you have a pale complexion, too light.
Golden Blond
Blond is one of those hair colors that can either look amazing or disastrous, depending on the shade and upkeep provided. Blond hair can easily appear washed out, especially as you age. Opt for a vibrant, golden blond hair color to add youthfulness to your face and give your tresses a boost of personality. If you fear that going for a golden shade all over is too much for you, simply apply highlights around the face.
Chestnut Brown
If you're over 50, you should avoid deep, dark shades of brown because they can age you and give you a weathered appearance. Instead, opt for a chestnut brown that is softer, lighter and peppered with dimension. You can modify this shade for specific seasons of the year. During the warmer months, adding dark blond highlights is flattering; in colder colder months opt for highlights in a caramel tone.
Silver Gray
The most natural color a woman over 50 can wear is silver gray. If you are going to embrace your natural gray hair there are a few things you should do to get the most out of your hair color. Dull, washed-out gray hair can make you look older rather than distinguished and sexy. Apply a clear glaze to add brightness and shine to gray or white strands. Have your stylist carefully blend the surrounding darker strands of hair with your silver locks for a multidimensional look.
Radiant Red
For those with fair complexions, a classic red hue works to add color to the skin, providing luminosity and a subtle flush to the apples of your cheeks. Pick a natural-looking, light auburn shade. Since red fades more quickly than other hair pigments, be sure to have your hair colorist add a red gloss to your ends when touching up your roots.
References
Writer Bio
Danielle Jennings began writing professionally in 2005 and is an expert in fashion, entertainment and lifestyle journalism. She has written for "Jezebel," "Creative Loafing" and "Haute Living." She attended Clayton State University, earning her bachelor's degree in communications and media studies.
Photo Credits
Stuart C. Wilson/Getty Images Entertainment/Getty Images