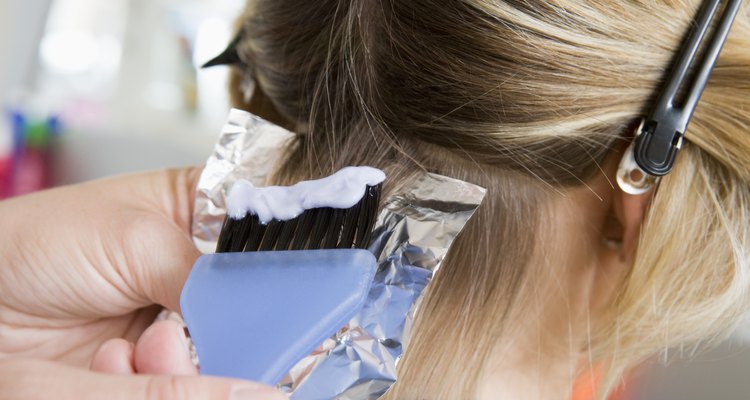 BananaStock/BananaStock/Getty Images
Highlights and lowlights both change the natural color of your hair in a subtle way through spot hair color processing. These processes are less damaging than dyeing your hair all one color, because they use less dye; they also appear more natural. While highlighting involves using colors lighter than your natural shade, lowlights use colors darker than your natural shade. Having both applied at once adds depth to your hair color. Learn the differences and consult your stylist when deciding the best option for your hair color.
Shining with Highlights
Highlighting your hair involves selecting thick or thin strands of hair to lighten -- thicker if you'd like them to be more noticeable, thinner for a more subtle look. Consider highlighting your hair if you want to lighten your present hair color. Highlights can be any tone of color or any light or dark shade, as long as the color is lighter than the rest of your hair. Thicker highlights look more bold and less natural, while thinner highlights appear more natural and generally create a sun-kissed look.
Toning Down with Lowlights
Lowlighting colors thin or thick strands of hair darker than your natural color. This is typically the best option for people who enjoy the look of highlights but aren't as interested in a dramatic change to their hair color. Lowlights can be thought of as the reverse of highlighting, and can be done on their own or applied along with highlights to help blend the lightened strands with your natural hair color and add dimension. Lowlight your hair every third hair appointment instead of recoloring highlights and running the risk of over-highlighting your hair.
The Right Shades
Highlights ideally complement the hue of your natural or artificial hair color, while lowlights might be applied in the event of a bad coloring experience, for example, if your hair turns out lighter than it should have. They can also restore color to faded or brassy looking hair, or tone down your color. If you choose to highlight, consider blond or red tones for light hair, and a shade of caramel or copper for darker hair. You should go two shades lighter for highlights and two shades darker for lowlights than your hair color. Any more than three shades will appear unnatural.
Considerations and Risks
While both highlights and lowlights can give the illusion of depth and volume, and revitalize faded or dull looking hair, professional treatment is costly; at-home treatment is tricky and may involve a color mishap. Remember that color fades, so you will require multiple treatments to restore your highlights or lowlights. You should only average approximately four treatments per year to prevent damage to your hair. Be sure to use a color-safe shampoo and conditioner to help the color treatment last longer, and talk with your stylist about how to care for your hair post-treatment. If you opt for at-home coloring, read the instructions carefully and always do a "strand test" on your hair to make sure the color you chose matches what you actually want.
References
Writer Bio
Laura Gianino works at a publishing company in New York City. Her writing has appeared on eHow, LIVESTRONG, Synonym and Global Post.
Photo Credits
BananaStock/BananaStock/Getty Images