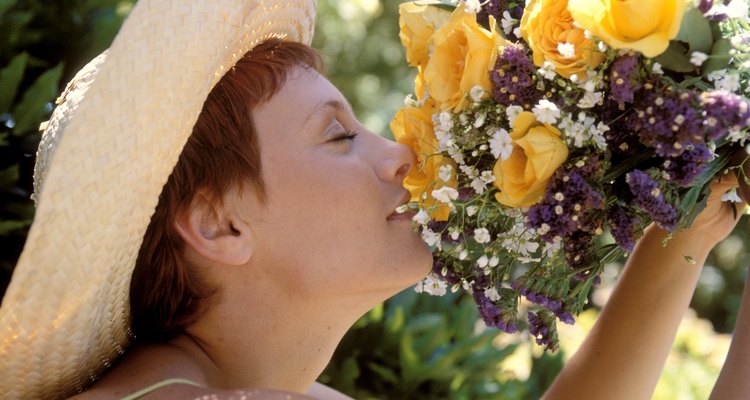 Pixland/Pixland/Getty Images
Unlike permanent hair color that frequently contains ammonia, a semi-permanent or demi-permanent product is often ammonia-free and designed to gradually fade and wash out of your hair in 24 to 28 shampoos. These temporary dyes have the advantage of gently blending grays to create a more natural look and are ideal for use on previously chemically treated hair because the products are not as harsh as more permanent products. Whatever your reasons for choosing temporary dye products, you might like the results and want them to last a little longer, which is possible when you maintain your tresses correctly.
Step 1
Avoid washing your hair before you apply the temporary color. If possible, wait at least 48 hours after your last shampoo before dyeing your hair. The concentration of oils naturally excreted by your scalp will help the temporary dye attach better to your hair, making it last longer. In addition, the oils protect your scalp from the chemicals.
Step 2
Wait at least 24 to 48 hours before washing your hair after applying the dye. Choose a gentle shampoo or one formulated for color-treated hair and use it each time you wash your dyed tresses. Follow the shampoo with a conditioner formulated for color-treated hair.
Step 3
Rinse the shampoo or conditioner from your hair with lukewarm or cool water. Hot water fades the dye even faster.
Step 4
Avoid washing your hair every day as water and shampoo will fade your temporary dye. Washing your hair every two days or three times a week will help the hair to retain the color.
Step 5
Apply a deep-conditioning treatment designed for color-treated hair once a week. Choose a product designed to brighten or lengthen the life of your hair's color. Allow the product to penetrate your hair according to the manufacturer's directions and rinse it away with lukewarm or cool water.
Step 6
Steer clear of chlorinated pools and salt water. Both will wreak havoc on your hair and cause the temporary color to fade that much faster. In addition, chlorinated water can leave behind an unsightly greenish tint to your hair. If you do go swimming in a pool or the ocean, protect your hair with a swim cap.
Step 7
Protect your treated hair from the powerful UV rays of the sun that will fade your temporary color quickly. If you can't stay out of the sun, cover your hair by tucking it inside a hat or wearing a scarf over your head.
References
Writer Bio
Residing in Chippewa Falls, Wis., Jaimie Zinski has been writing since 2009. Specializing in pop culture, film and television, her work appears on Star Reviews and various other websites. Zinski is pursuing a Bachelor of Arts in history at the University of Wisconsin.
Photo Credits
Pixland/Pixland/Getty Images