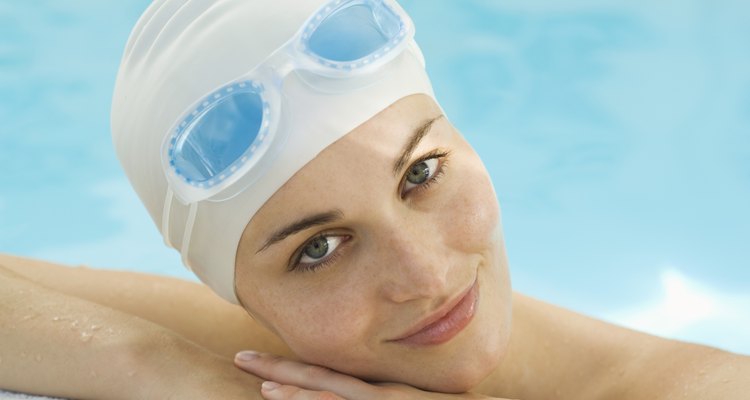 Jupiterimages/Pixland/Getty Images
The right hair color can instantly perk up and enhance your appearance. If you can't decide between red or purple tones in your hair, burgundy hair color may be the ideal solution, because it's a mixture of both colors. However, red hair color shades are known to fade quickly. Use appropriate products and correct styling methods to avoid premature fading of your burgundy hair color.
Use a shampoo and conditioner formulated for colored hair. Regular shampoos and conditioners may be too harsh on your burgundy hair and strip the color. Avoid washing your hair with warm water, because this opens up the hair cuticles and fades the color; use cool water instead.
Protect your burgundy hair color from damaging factors, such as ultraviolet rays and chlorine-filled swimming pools. Wear a hat or scarf on your head to shield your hair from the Sun. Apply a leave-in conditioner for color-treated hair before going swimming; this protects and coats your hair so chlorine cannot inflict damage.
Mist heat-protecting spray on your burgundy tresses before using heat styling tools, such as flat irons, hair dryers and curling irons. Limit the use of heat styling tools because the heat can dry out your hair and make it brittle, dull and brassy.
Use a color glaze for burgundy hair at least once a week. Apply the color glaze after washing your hair. Leave it on for the required amount of time mentioned in the product instructions. Rinse it off with cool water. A color glaze seals the hair cuticles and adds sheen to your hair, making your dyed strands appear healthy and vibrant.
Touch-up your roots regularly if they start showing. Use a home root touch-up kit or have a professional touch-up your hair.
Wash your hair once a week with a color-depositing shampoo for burgundy hair. Color-depositing shampoos contain pigments that are deposited on the hair and bring out the radiance of the hair color.
Writer Bio
Kimberly Caines is a well traveled model, writer and licensed physical fitness trainer who was first published in 1997. Her work has appeared in the Dutch newspaper "De Overschiese Krant" and on various websites. Caines holds a degree in journalism from Mercurius College in Holland and is writing her first novel.
Photo Credits
Jupiterimages/Pixland/Getty Images