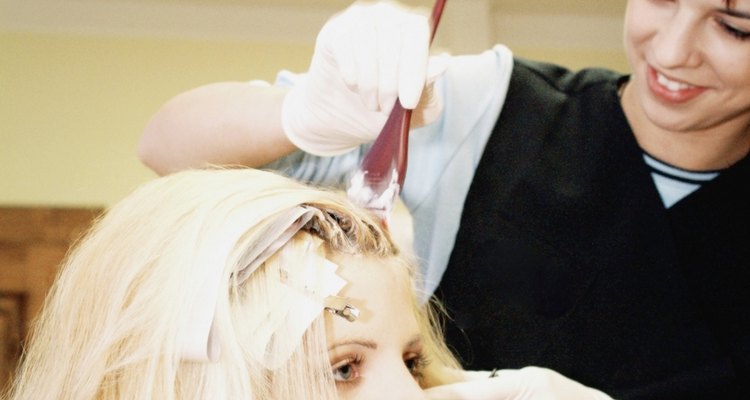 Medioimages/Photodisc/Digital Vision/Getty Images
Color correcting your hair at home involves risks. Although you can remove color from hair that's dyed too dark, you'll need to add color to overly blond hair. This situation presents a challenge because porous, over-lightened hair grabs color and adding too much can result in a shade darker than you want. To achieve a pleasing result, use non-permanent color or stains and check your hair often while processing.
Apply a color-depositing shampoo or conditioner to darken hair. Designed to cleanse, condition and freshen hair color, these products do not contain ammonia or peroxides. Study various manufacturers' charts to determine which shade works for your current hair color. Select the next darker shade since you want to darken your blonde.
Rinse your hair with a natural stain. Shampoo hair and place a bowl in the sink. Rinse hair with cooled black tea or coffee several times. Check the color and if it's not dark enough, rinse again and reapply and leave the coffee or tea on the hair for up to 15 minutes. Rinse with clear water.
Apply a semi-permanent color of the same brand you used to lighten your hair. Before you apply the color, deep condition your hair several times to prepare it for more chemicals. Find a beauty supply store that has color charts and swatches. Compare your hair color to the swatches to determine your current base level and tone and select the next darkest shade. Call the hair color manufacturer's 800 number on the box to determine if the shade you chose will give the results you want. After applying the color, check your hair every five minutes and rinse out the color when your hair has darkened enough.
See a professional hair stylist or colorist for best results. Home hair color fixes can be unpredictable and may make your hair look worse. Adding lowlights to your too-blond hair is one easy fix and should only be done by a professional.
References
Writer Bio
Robbin McClain has been writing professionally since 1992. She has written about beauty, fashion, health, business and crafts for "American Salon," "Redbook," "Woman's Day" and other publications. McClain holds a Bachelor of Arts in English from the University of Texas.
Photo Credits
Medioimages/Photodisc/Digital Vision/Getty Images