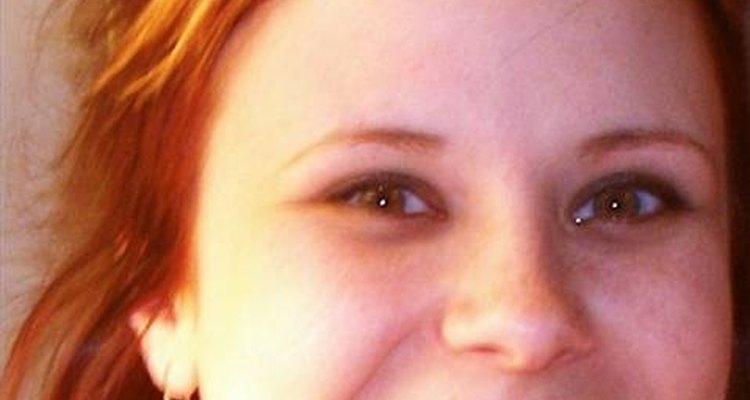 From women in the Old Testament of the Bible to today's modern woman, hair coloring has added a new look to countless people. Ancient Greeks used boiled walnuts and leeks to darken hair, while bleach was used to lighten hair. In the not-so-distant past, women used color to cover up gray; now, color is used to change a woman's looks or to prove the adage true that "blonds have more fun." If used correctly, today's hair coloring products generally do not damage the hair, regardless of how often they are used.
Chemicals
Hair coloring contains chemicals including hydrogen peroxide, ammonia, isopropyl alcohol, and various dye colors and pigments. These chemicals can harm hair over time, so proper care must be taken to ensure minimal irreversible damage. TIGI is presently the only hair color manufacturer to add chamomile, amino acids, and sugar crystals to their colors to improve the condition of the hair, thereby reducing the effects of long-term coloring. Modern hair colors have no reported carcinogens (cancer promoting agents).
Developer
Hydrogen peroxide is the active ingredient, or developer, in most hair colors. Hydrogen peroxide removes sulfur from the hair, which allows the color to bond to the hair. For the least damaging effects on the hair, a developer that is rated at a volume of 20 or less should be used. A 40-volume developer is very strong and should only be used when lifting (changing) more than four levels of hair. (A level is a shade of color; level 1 is black and level 10 is lightest blond.) A 10 volume is very safe and can be used every few weeks because it is works to deposit color only.
Over-the-Counter Kits
Over-the-counter hair-coloring kits are readily available in a wide variety of stores and come in permanent or semi-permanent colors. Over-the-counter kits offer many options, but it is still possible that you may not find an exact match to the color you are seeking. These at-home coloring kits can be used regularly, but it is recommended that you follow the directions carefully to minimize the possibility of doing any damage to your hair.
Naturals
Vegetable dyes, such as henna, produce a natural-looking reddish tint to hair. Although this is a natural product, after several applications, the henna forms a permanent bond to the hair that will not wash out. Henna will not damage the hair, however, and it can be used as frequently as desired.
Salon
Professional hair stylists are licensed and are required to complete continuing education credits in order to maintain their credentials. They are trained to mix colors, always using the correct volume developer, in order to reach the most realistic hair coloring for each of their client's individual skin tones. The stylist can also recognize damaged hair and offer product suggestions to improve or reverse damage caused to over-coloring or misuse of hair color.
Miscellaneous Tips
Generally, semi-permanent colors wash out in about ten shampoos and can be used every few weeks with no hair damage. Permanent hair colors can be used every six to eight weeks, usually with no hair damage.
Be warned that bleach will damage the hair, often irreversibly. Lightening hair from any color to white may cause extreme damage and should never be attempted.
A cosmetologist is trained to color hair for the best results. She knows how to look for damage to hair before new color is applied and provide appropriate recommendations for coloring and hair care.
References
Writer Bio
Virginia Gorg is a writer and self-published author. She is a grant writer as well and contributes articles to various websites. Gorg works full time as well as maintains a part-time position as a seasonal tax preparer and was strategically involved in a successful campaign for a local State Representative.