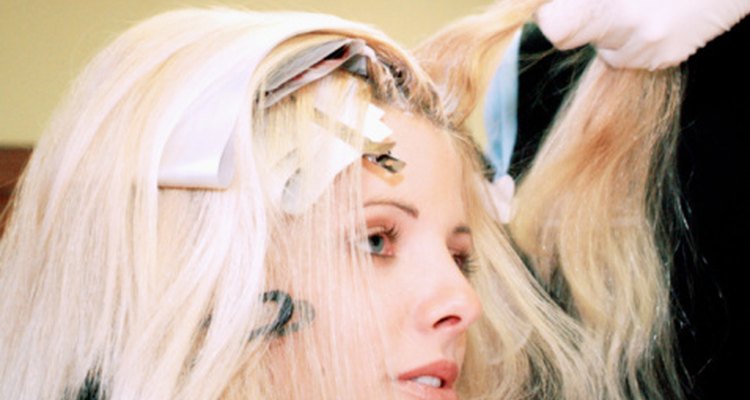 Medioimages/Photodisc/Valueline/Getty Images
When dyeing someone's hair a lighter shade, it is common for the person's undertones to show through -- giving the hair a brassy or reddish tone when it is meant to be blond. The same thing occurs when trying to dye over gray hair -- the grays will peak out underneath the color. To solve this problem, Wella offers a line of drabbers. Wella's drabber formula is a cream-like substance that is added into the hair dye formula to avoid dark or light tones from showing through. This product is a professional hair dye and should only be used by a licensed hair stylist.
Mix equal parts of your developer and hair color into a plastic bowl. Shake both bottles thoroughly. Never use a metal bowl when mixing hair color because the metals in the bowl can affect the chemical reaction and alter the color of the dye.
Evaluate which type of drabber to use -- the light drabber or the dark drabber. Light drabber works best on lighter brown hair because it doesn't have as much red coverage. Dark drabber is used on dark brown or black hair.
Add one part drabber into the mixture and stir it thoroughly. The amount of drabber you add will depend on the client's hair. Start with one part drabber to see the effect. If the results are not what you hoped for, you can add up to three parts drabber to the mixture.
Apply the color to the hair and then put a plastic cap on the hair. Wait the remainder of the processing time before rinsing out the color. If the undertones are still too brassy, or if gray is still showing through, add more drabber to the color and start the process again.
References
Writer Bio
Elyse James began writing professionally in 2006 after deciding to pursue a career in journalism. She has written for "The Algonquin Times" as a general assignment reporter and published blogs and articles on Webcitybeat. James holds a Bachelor of Journalism from the University of Ottawa.
Photo Credits
Medioimages/Photodisc/Valueline/Getty Images