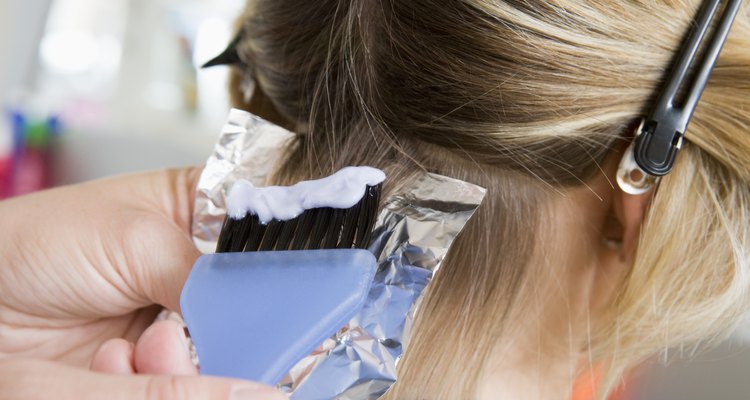 BananaStock/BananaStock/Getty Images
If you are looking to add a little luster to your locks, coloring your hair is a powerful way to cover grays and add shine to dull strands. Hair color processes range from temporary tints that coat the shaft to permanent coloring treatments that transform the hair with bleaching agents or dyes. If you are a do-it-yourself colorist, or are prepping for a salon visit, it's important to choose the right hair coloring process so your dye job doesn't end in a disaster.
Permanent Color Plans
Permanent color gives the most dramatic color change and is long-lasting. In fact, if you want to go all-out platinum blond or fiery red, it is best to use a permanent color process to color your hair. The permanent process works by lifting color from the hair, then darkening or lightening your strands. Your final hair color may fade slightly over time with each shampoo, but with a permanent colorant, it won't wash out completely.
Because color penetrates the hair shaft during the hair coloring process, this treatment is perfect for covering grays. You'll need to redeposit the permanent dye at the roots however, every four to six weeks to cover newly-sprouted regrowth. Because permanent colorants use ammonia and peroxide to lift and deposit hair color, this chemical process may damage the hair shaft.
Temporary Hue Transformations
If you are looking to hide your roots between hair appointments or want a subtle color change, a temporary rinse is a great way to play with color. Temporary hair colorants contain no peroxide or ammonia and can last from one to six shampoos. These coloring agents do not penetrate the hair cortex and come in lotion, mousse and gel formulations. Unfortunately, temporary tints can't lighten your hair and may discolor the scalp or your clothes.
Semipermanent Shade Secrets
If you want to add a temporary color that you can wash out later, use a semipermanent coloring process. A semipermanent shade does not contain peroxide or ammonia and deposits color on the surface of the hair shaft only. A semipermanent color does not lighten the hair and will wash out gradually after four to six shampoos. Semipermanent color is gentle enough to use on chemically-treated or permed hair, to cover grays or to enhance your existing hair color.
Demipermanent Color Treatments
Demipermament, or deposit-only, processes deposit color into the shaft but do not lighten the hair color. These colorants contain peroxide and deepen the tone of the hair without the use of ammonia. Use this coloring treatment to cover up to 75 percent of your gray hair and to brighten your natural hair color. Demipermanent shades will lift from the hair after 20 or more washes.
Glam Glosses and Glazes
A sheer glaze adds shine to your hair by depositing a hint of semipermanent color. Glosses also help to protect your color in between appointments by extending the life of your existing hair hue. If you hair coloring is too ashy or dull, a glaze or gloss can tweak your tone and revive your existing hair color.
Salon-Worthy Highlights or Lowlights
In comparison to a single process color, highlights or lowlights help to add dimension to your hair. At-home lowlight kits contain permanent and bleach colorants to alter the hair color permanently. Using a brush supplied in the kit, you can apply the color from the roots of select strands to the ends of the hair. "Glamour" magazine reports that lowlights create a greater and darker contrast between strands while highlights brighten and enhance your existing hair color.
References
Writer Bio
Mimi Abney is a lifestyle writer specializing in online content for women. Her work has appeared in NewsOK.com and "Keepsake Magazine," among other publications. With over 15 years of writing and editing experience for the web and print, Abney is also a contributor to online health, beauty and fashion publications. She holds a Bachelor of Science in biology from Spelman College.
Photo Credits
BananaStock/BananaStock/Getty Images