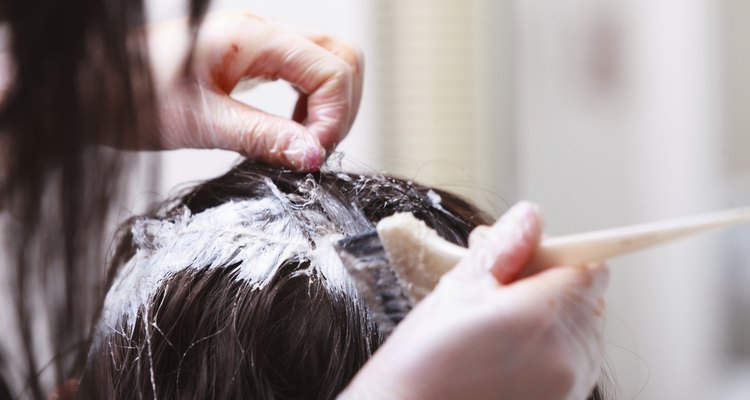 Voyagerix/iStock/Getty Images
When coloring your hair doesn't go exactly as planned, don't panic. Although you can re-dye hair within a day, it's best to understand what your hair has gone through and how to help prepare it for even more changes.
About the Hair and Coloring
Hair dye lifts the outer scales of the hair follicle to alter the soft inner core. Re-dyeing too quickly can cause the scales to flare up, creating a dry, frizzy appearance. Lightening the hair requires bleach or peroxide to remove pigment and is more damaging than adding pigment by going darker. Permanent dye lasts until the strand falls out, causing more damage than semi-permanent coloring which fades after a few shampoos. Organic hair dye is another option that is healthier than chemical dyes.
How to Re-dye
Whether your hair was colored by a professional or at home, speak with a salon colorist to assess the damage before dyeing again. Single-process coloring is typically done once a month, and highlights are applied every two to three months. Remember to first apply a deep conditioning treatment to help weak strands recover. Even if permanent color was used, re-dye using semi-permanent color or organic dye to achieve the shade you want.
Future Care
In addition to deep conditioning treatments, it's especially important to use shampoo specifically for color-treated hair. Avoid overusing blow dryers and other heating tools. Though not always a dramatic change, the safest way to dye hair is to go darker -- within two to three shades of your natural color -- and stick to semi-permanent or organic dyes.
References
Writer Bio
Pam Smith has been writing since 2005. In addition to her work for Demand Media, her articles have been published online at CBS Local. She also wrote for the Pennsylvania Center for the Book's Literary Map while earning a Bachelor of Arts degree in English at the Pennsylvania State University. She is currently an editorial assistant for Circulation Research.
Photo Credits
Voyagerix/iStock/Getty Images