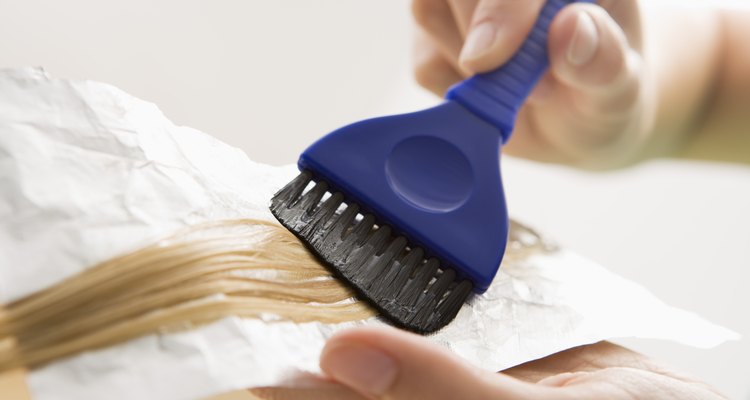 BananaStock/BananaStock/Getty Images
Coloring you hair can be time-consuming and expensive, so you want the results to last. Instead of going to a hair salon, many people prefer to color their own hair at home. With a few tips, you can do a professional looking job at home and make your hair color last as long as possible. You will need to prepare your hair to receive the color, and learn how to take proper care of color-treated hair in order to get the best results and make your hair dye more effective.
Use a hot oil treatment on your hair three days before you plan to color it. Healthy hair will take the color much easier than dry, brittle hair. A hot oil treatment will soften the hair and allow it to hold on to more color, which will help your color last longer.
Wash your hair 24 to 48 hours before you color it, but do not wash it the night before. Washing your hair the day after your hot oil treatment will allow your hair to keep most of its natural oils when you color it. Wash with a clarifying shampoo to remove residue buildup from other shampoos.
Rinse your hair with cool water after using a clarifying shampoo. Cool water will help to smooth the hair cuticles so the color will look more even. Do not use conditioner before you color your hair, as this can weigh your hair down and produce uneven results.
Perform a strand test on your hair. The picture on a hair color box will not always be the exact results you will see, so test the color on a small strand first to examine the color. This will allow you to make sure you will not have an allergic reaction to the hair dye.
Follow the manufacturer's directions on the hair coloring box. Leaving the hair dye in your hair longer than the recommended time will not give you better results. Apply a barrier of petroleum jelly around your hairline to protect your skin from the hair dye.
Use shampoo and conditioner made especially for color-treated hair. After coloring your hair, shampoos and conditioners that are not formulated for color-treated hair may strip away your new color. Wash and rinse color-treated hair in cool water whenever possible.
Use styling products that protect your hair from UV rays. Products with sunscreen will help prevent your color from fading in the sun, especially if you spend a lot of time outdoors. This will allow you longer periods of time between colorings, as well as protect your roots and scalp.
Let your hair air dry whenever possible. If you must blow dry your hair, use the lowest setting. Heat can make your color fade faster, causing you to need to color it more often. Limit your use of hot styling tools such as flat irons and curling irons. When you do use hot styling tools, use a styling product designed to protect your hair against heat damage.
Use a deep conditioner on your hair once a week to help your color last longer. Avoid using hot oil treatments once your hair has been colored, as it will strip the color from the hair. Apply a deep conditioner designed for color-treated hair to keep it strong and healthy.