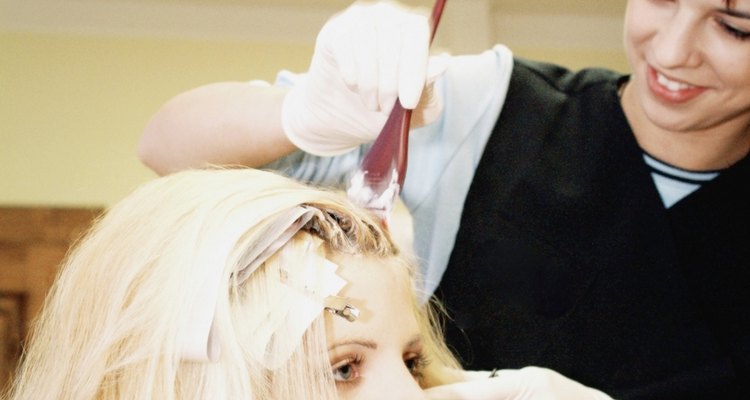 Medioimages/Photodisc/Digital Vision/Getty Images
Many people choose to dye only certain sections or strands of their hair and it has become a common trend to dye just your bangs, leaving the rest of your hair au naturale. With a little extra care, dyeing just the bangs is no more difficult than any other hair dyeing procedure. There are many different selections of hair dye products available. By dyeing your bangs yourself instead of having it done by a hair specialist, you will save a considerable amount of money.
Separate your bangs from the rest of your hair using a comb. Use a hair elastic to pull back the rest of your hair into a ponytail and clip back any loose strands.
Apply the color dye to your bangs. Place a layer of aluminum foil under your bangs and then another layer over your bangs. Let the dye sit in your hair for the recommended length of time based on the type of dye that you're using. The aluminum helps prevent any dye from getting on your forehead.
Rinse out your bangs in the shower.
References
Writer Bio
Jessica Cohen is a professional freelance writer who graduated with honors from the New School University in New York City, earning her bachelor's degree in liberal arts. Cohen specializes in writing music reviews and related articles, and most recently worked as a grant/technical writer for a nonprofit music organization in New York City.
Photo Credits
Medioimages/Photodisc/Digital Vision/Getty Images