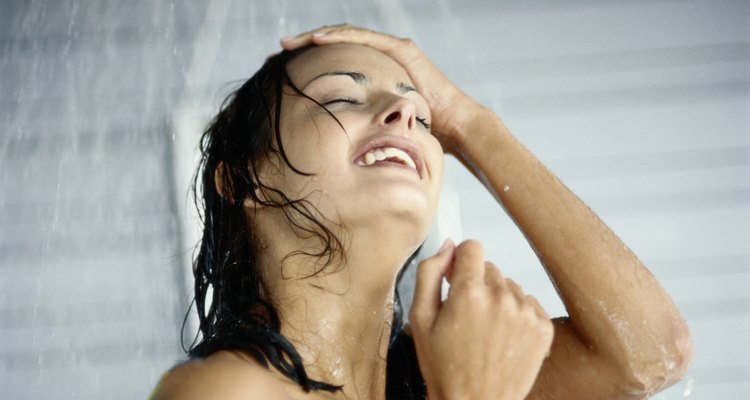 Hoby Finn/Digital Vision/Getty Images
Lightening the hair--especially when a person starts with brown or red hair--often ends with undesired reddish or brassy results rather than blond or golden hair. In order to correct these results, you will want to look for a purple-tinted toner that will balance out the brass. Toner is applied similarly to hair dye and can be done in the privacy of your home, saving you time and money.
Read the instructions that come with the toner carefully, if instructions are included. Many professional toners do not come with instructions.
Divide your hair up into four sections and secure the sections up on your head with claw clips.
Squirt or dump the contents of your toner bottle into your mixing bowl.
Put on your plastic gloves to protect your skin from the toner chemicals.
Put a towel over your shoulders to prevent your clothing from being stained by toner.
Apply the toner to your hair with the applicator, going section by section. Make sure to start at the ends and apply the toner to the roots last.
Place a shower cap over your hair.
Set a timer for 20 minutes. You will want to check the timer at 20 minutes, but can leave the toner in up to 45 minutes if desired results are not reached at 20 minutes. Check every five minutes after the first 20 minutes.
Remove the shower cap from your head and rinse the toner from your hair in the shower using warm water. When the water runs clear, the toner is all out.
Towel-dry your hair with a clean towel.
Apply a leave-in conditioner to your hair to prevent further damage.
References
Writer Bio
Ginger Yapp has been writing professionally since 2006, specializing in travel and film topics. Her work has appeared in such publications as "USA Today" and online at Hotels.com. Yapp also has experience writing and editing for a small California newspaper. She earned her B.A. in film and media studies and has worked as an ESL teacher at an international school.
Photo Credits
Hoby Finn/Digital Vision/Getty Images