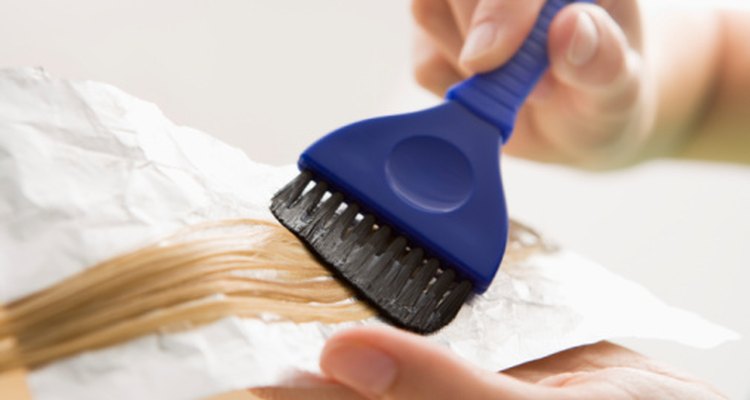 BananaStock/BananaStock/Getty Images
In order to make dark hair blonde, apply a bleach solution consisting of powdered bleach and a developer, most often "20 Volume" hydrogen peroxide. Before bleaching your hair, you should apply the bleaching solution to a small section. If the hair doesn't get as blonde as you would like, add an extra three to five minutes of processing time. The darker your hair, the longer it will take to successfully strip the color. When bleaching only your bangs, apply the bleach carefully to avoid bleaching the roots of surrounding hair and causing stripes along the hairline.
Wet your hair with a spray bottle. Pay particular attention to your bangs, the hair surrounding your face and the crown. The water will help you separate the hair and prepare it for bleaching.
Comb your bangs forward and the rest of your hair away from your face. Use a tail comb to help create a crisp part.
Secure the rest of your hair with a ponytail holder or clips.
Rub petroleum jelly along your hairline to protect your skin.
Measure out a piece of foil a bit wider than the width, and double the length, of your bangs.
Mix the bleaching product according to the manufacturer's directions. The consistency should be like thick gravy rather than milk or paste.
Fold over a 1/2-inch flap of foil.
Place the foil under your bangs, pressing the flap of foil into the petroleum jelly at your hairline.This will help keep the bleach from seeping onto your skin.
Start brushing on the bleach at the root, paying close attention not to spread the bleach beyond the part. Brush from root to tip and coat thickly.
Brush the bleach on top of and beneath the hair. For chunky bangs, you may want divide them in half horizontally and use two separate foil packets to process the hair evenly.
Fold the foil without hair on it upward to cover the hair being bleached.
Allow the bleach to set for the manufacturer's recommended time or for the time you tested (if you chose to test the bleach before applying).
Rinse your bangs with cold water until the water runs clear.
Apply an intense conditioning mask to your bangs. This will repair the cuticle of the hair and help prevent the hair from looking brittle or burned.
References
Writer Bio
Transplanted Yankee Erin Watson-Price lives in Birmingham, Ala., and has been writing freelance articles since 1997. She worked as writer/co-editor for Coast to Coast Dachshund Rescue's newsletter, "The Long and the Short of It." In 2007 she obtained a certification as a copy editor. Watson-Price holds a Bachelor of Arts in creative writing from Southern Illinois University-Edwardsville.
Photo Credits
BananaStock/BananaStock/Getty Images