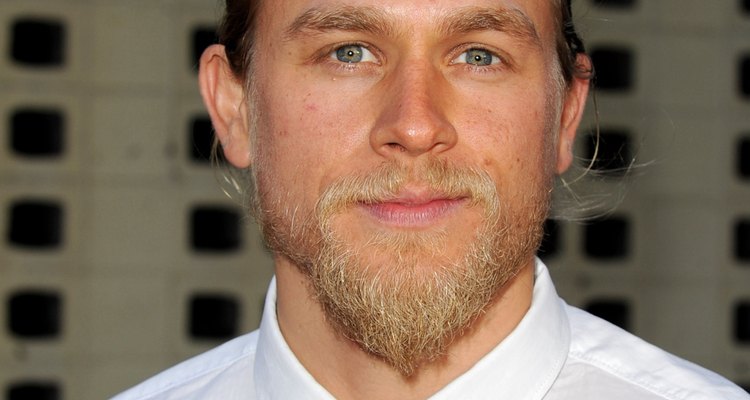 Kevin Winter/Getty Images Entertainment/Getty Images
In a world of highlights and ombre hair, bleached hair still manages to make a bold statement. If you bleach your hair, you'll want to dye that hard-earned beard to match. The hair on your face requires a more sensitive bleaching process than the hair on your head, as facial skin is more easily irritated. Commit to the bleaching process and lighten your beard at home.
Pick up a quarter-sized amount of petroleum jelly, and smooth it over the skin that is next to your beard on your face and neck. This will protect it from being tinted or dried out by the bleach.
Place a sheet of newspaper on a flat surface and set a plastic bowl on top of it. Pull on a pair of rubber gloves, and mix the bleach and developer together in the bowl. Use a bleach that is safe for the face, and follow the directions on the packaging.
Dip a color brush into the bleach, and brush it over your beard. Coat your beard once, as bleach is very strong and typically removes color with one application.
Leave the bleach on your beard for the minimum amount of time indicated on the packaging. Look into the mirror to see if the hair has lightened to the desired shade. When it has, use your rubber gloves to expose the root of the hair and brush a thin layer of bleach onto it. Let the bleach process for the maximum amount of time indicated on the packaging.
Rinse your beard with warm water until the water runs clear. Coat your beard in the provided toner, and allow it to sit for 20 minutes. Toner will remove any orange or yellow tones from the beard while helping to condition the hair.
Rinse the toner from your beard with warm water. Soak a cotton cloth in warm water and use it to wipe the petroleum jelly from your skin.
References
Writer Bio
Celeigh O'Neil has been writing professionally since 2008. She has a Bachelor of fine arts from the University of Ottawa, as well as degrees in fashion illustration/design, digital arts and certification in hair and makeup artistry. O'Neil was a frequent contributor to Toronto's "Dialog" newspaper and has worked as an instructional writer, creating lessons in fashion, art and English for students of all ages.
Photo Credits
Kevin Winter/Getty Images Entertainment/Getty Images