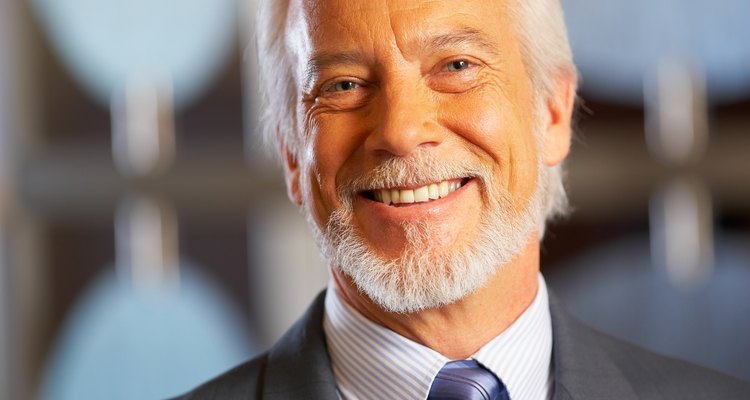 Photos.com/Photos.com/Getty Images
Beards take on a salt-and-pepper appearance as they begin to transition to gray during the aging process. Many men prefer to have a solid colored beard, and bleach their facial hair to achieve a uniform white color. Bleaching a beard alone will produce a yellow colored beard that does not look natural. It is essential to follow your bleaching process with a toner to achieve a natural white beard color.
Visit a beauty supply store or consult a professional salon colorist to select a white, blond or silver toner that is right for your specific skin tone. Toner selection is a science, and the average consumer will need help to choose the right color.
Apply petroleum jelly to the areas directly surrounding your beard line to prevent skin burn during the bleaching process. Mix the bleach and developer from your bleach kit in a plastic bowl, using your tint brush.
Apply the bleach to your beard with your tint brush, being careful to avoid direct contact with the skin. Cover your beard with plastic wrap. Let the bleach process for the full amount of time recommended on your bleach kit. Remove plastic wrap and rinse the bleach thoroughly out of your beard with running water. Repeat this process if the first process does not lift enough color.
Mix the toner and developer in your second plastic bowl, according to the instructions that came with your toner kit. Apply the toner to your beard with the tint brush and allow to process according to the time prescribed in your toner instructions. Rinse thoroughly with running water. Repeat this process until your beard is white.
References
Writer Bio
Sarah Morgan has been a copywriter since 2008 and has written hundreds of articles for various websites and blogs, including work for the Couple's Institute and Caney Technology. Morgan has a degree in practical ministry from FIRE school of ministry in Charlotte, NC.
Photo Credits
Photos.com/Photos.com/Getty Images