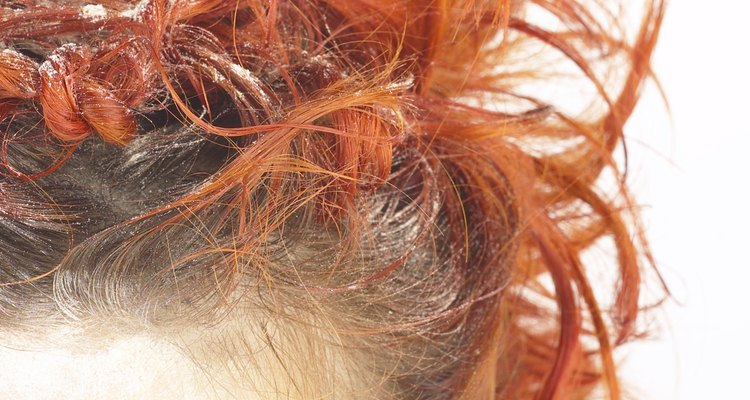 Hemera Technologies/AbleStock.com/Getty Images
If you have a busy life or a tight budget, dyeing your roots at home can save cash and time. If you know what dye your colorist uses, you can touch up your hairline yourself. Whether you're lightening or darkening your hairline, the key is in knowing how to mix the bleach and how long to leave it on your hair. Virgin hair takes dye or bleach readily, minimizing the time it takes to color.
Step 1
In the bowl, mix the hair dye or bleach in the amount directed on the package or by your stylist. Stir the color with the dye brush in a well-ventilated room until it is evenly mixed.
Step 2
Put on a pair of latex or nitrile gloves. Hold small sections of hair back with one hand and paint the dye all around your hairline with the other. If it's helpful to tie up your hair or if you are dyeing your roots as well as your hairline, make a high ponytail on top of your head and dye the lower section before letting the ponytail down.
Step 3
Cover your hair with a plastic shower cap and leave the dye on for the suggested amount of time. Most hair dyes take 20 to 30 minutes to process.
Step 4
Wash the dye out of your hair with sulfate-free shampoo. After rinsing the shampoo until the water runs clear, squeeze out the excess water and wrap your hair in a soft T-shirt for 15 minutes. Use the shirt as you would a towel.
Step 5
Apply toner to your hairline or roots if necessary. This is often required for blonde or lightened hair. Cover your head with a clean shower cap and leave the toner on for the recommended amount of time.
Step 6
Rinse out your hair and apply deep conditioner. Leave the conditioner on for at least 30 minutes before rinsing your hair and wrapping it in another clean T-shirt to speed drying.
References
Tips
A microfiber towel is an alternative to a T-shirt. Both help prevent hair breakage.
To prevent staining your skin, apply a thin layer of petroleum jelly to your face, neck and ears just beneath your hairline.
Warnings
Never leave dye on longer than directed. Dyes that contain peroxide and developer are very damaging to your hair if you leave them on for more than the recommended amount of time.
Do not dye over an already dyed hairline. Visit a professional stylist for color correction.
Writer Bio
S.R. Becker is a certified yoga teacher based in Queens, N.Y. She has a Master of Fine Arts in creative writing and has worked as a writer and editor for more than 15 years. Becker often writes for "Yoga in Astoria," a newsletter about studios throughout New York City.
Photo Credits
Hemera Technologies/AbleStock.com/Getty Images