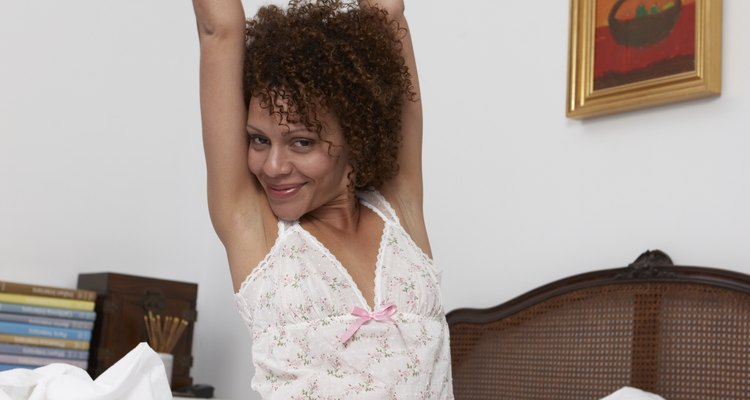 Jupiterimages/Polka Dot/Getty Images
When you slipped off to dreamland, you had perfectly styled hair; however, when you woke up, those treasured tresses went flat or became a frizzy mess. You can extend the wear of a wavy or curly hairstyle by preparing your head before you lay it on a pillow. Skip the morning hair drama and stop wasting time redoing your do by maintaining the hairstyle overnight.
Slide satin pillowcases on your pillows. The satin fabric does not rub your hair as much as cotton fabric.
Bend over at the waist, gathering your curls in a loose ponytail on top of your head. Use your hands to pull up the hair.
Tie the hair up on top of your head with a fabric-covered ponytail elastic. This kind of hair accessory will not leave creases in your hair when you take it down.
Remove the fabric-covered ponytail elastic when you wake up and shake your hair loose. You may need to freshen the ends of the curls with a styling spray, a leave-in conditioner or water.
References
Writer Bio
Mimi Bullock's writing reflects her love of traveling the back roads of small towns and sampling the local cuisine. As a regular feature writer for "Southern Hospitality Traveler" and journalist for "Beachin' Magazine," she gets to experience the rich heritage of the southern culture. She is also a licensed cosmetologist who has her own skin care line.
Photo Credits
Jupiterimages/Polka Dot/Getty Images