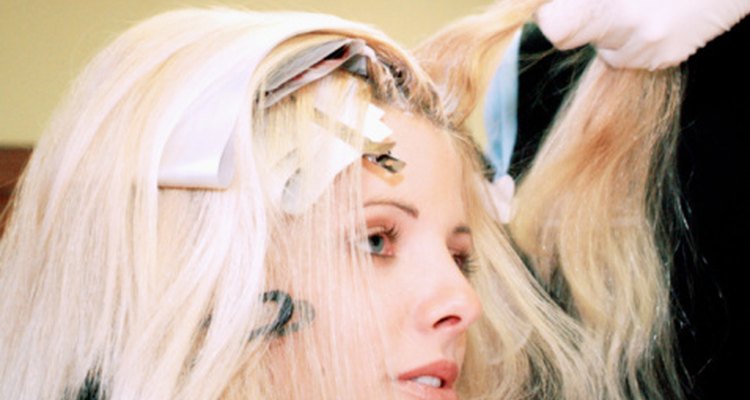 Medioimages/Photodisc/Valueline/Getty Images
Changing your hair color dramatically alters your look. Picking the hair color that will best enhance your natural beauty can be challenging. However, if you use your skin tone, eye color and eyebrow color as guidelines, making your choice will be easier. Selecting a hair color that complements your skin tone and enhances your features will help you make a lovely change for the better.
Determine if your skin tone is cool or warm. Typically, if your natural hair color has an ash tone or if you have olive skin your skin tone is considered cool. If your natural hair color is red or has golden tones, your skin tone is likely warm. If your skin itself has a pink or copper undertone, your skin tone is also considered warm.
If you are still having trouble deciding if your skin tone is warm or cool, look at the veins on the inside of your wrists. If the veins have a bluish tint, you probably have a cool tone; if they have a greenish tint, your skin tone is probably warm.
Aim for warmer hair colors if your skin tone is cool. Choose bold brown, dark red or blond shades to balance the cool tones in your skin.
Choose cooler colors to balance warm skin tones. Try shades like dark brown or auburn. Women 35 and older should not dye their hair too dark because it may age their faces.
Select the correct shade of the color you choose. If you intend to dye your hair brown, look back at your childhood snapshots. Select a shade like the one you had before puberty for the most flattering results. If your skin is ruddy, avoid hair colors with red tones because these will only enhance the redness in your skin. A more neutral hair color will offset the redness in your skin.
Writer Bio
Eliza Herring has been writing professionally since 2007. She has worked as a contributing writer for "Lumina News" and "Topsail Voice" newspapers. Herring holds a Bachelor of Arts in English from University of North Carolina at Wilmington.
Photo Credits
Medioimages/Photodisc/Valueline/Getty Images