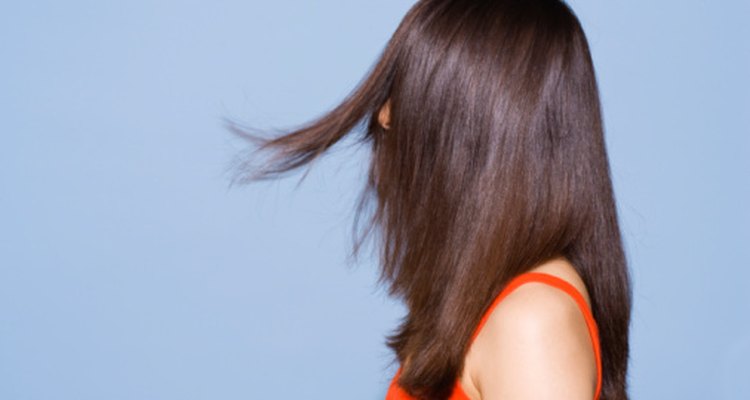 Jupiterimages/Pixland/Getty Images
Whether you color your hair brown to cover your grays or to enhance your natural hair color, it's a great choice. Brown hair is fairly easy to maintain and coloring at home is more or less goof-proof. The most common complaint is that color-treated brown hair turns reddish or brassy. A number of factors cause changes to dyed hair, but you can protect your brown hair from one coloring to the next.
When choosing a hair color product, choose cool or neutral shades. They are usually given color names with words such as cool or ash in them. For instance, Clairol has colors named Medium Ash Brown and Lightest Cool Brown; Garnier has Cool Brown and Light Ash Brown. Avoid colors with names that have the words gold, auburn or warm in them. While your hair might look good right after coloring, hair colored with the gold, auburn or warm shades tend to turn brassy when the color fades a bit.
Use shampoos and conditioners that are designated for color-treated hair. Other shampoos, especially cheap shampoos, have ingredients that strip the color from your hair and encourage brassy undertones to surface. Many good products are on the market for color-treated hair, including Redken Color Extend, John Frieda's Brilliant Brunette or Tresemmé Color Revitalize Shampoo. If you are willing to spend more money, try Aveda's Clove shampoo and conditioner. It's made with natural ingredients, organically grown clove and coffee, which enhance brown hair color beautifully.
If you live in an area where water is very hard, you may have mineral deposits accumulating on your hair and scalp. Hard water minerals, such as calcium, magnesium, iron, copper and lead, can affect hair color greatly. If your brown hair color is turning red very quickly, this might be the culprit. Avoid over-rinsing your hair and consider installing a water filter on your shower head.
As with any color-treated hair, don't wash it every day unless you have to. Do it twice a week or every other day. It really does help to make hair color last longer. And use a conditioner made especially for color-treated hair after every hair washing.
When in the sun, wear a hat or use a hair sunscreen product, such as Redken - UV Rescue Brunette Guard. Remember, UV rays love to break apart hair dye molecules, and if you don't protect your hair, your hair color will most definitely fade.
If you want to show even more love for your brown hair color, use a product that deposits some color in between colorings. Try John Frieda's Brilliant Brunette Color Glaze -- it can be a bit messy to use, but it does work very well.
References
Writer Bio
This article was written by the CareerTrend team, copy edited and fact checked through a multi-point auditing system, in efforts to ensure our readers only receive the best information. To submit your questions or ideas, or to simply learn more about CareerTrend, contact us [here](http://careertrend.com/about-us).
Photo Credits
Jupiterimages/Pixland/Getty Images