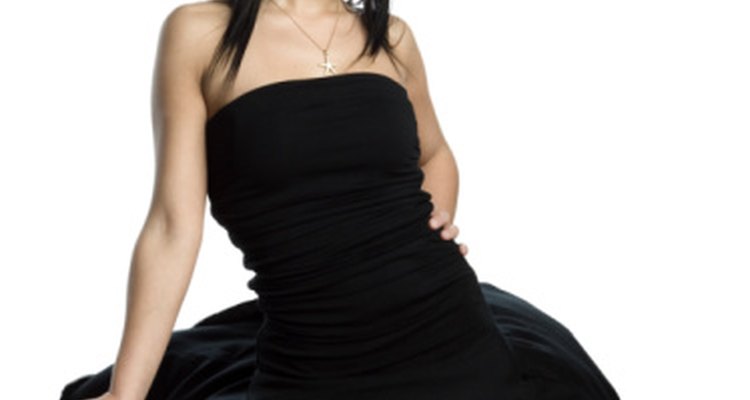 Photos.com/PhotoObjects.net/Getty Images
If you are shopping for the perfect dress, you will want to choose a color that flatters your skin tone, hair color and eye color. A dress in the right color will make you look and feel vibrant, and can accentuate your best features. The right color dress can make you look slimmer, brighten your face and eyes, and give you a healthy glow.
Light Cool Tones
Women with light skin, hair and eyes who have cool undertones look best in light pastels and muted colors. Choose dress colors that are soft, and that will not overpower your soft coloring and features. Colors like slate blue, heather gray, lavender, rosy pink and pale yellow are all flattering colors. Dresses in soft white, off-white or cream complement women with light, cool coloring. Steer clear of earth tones and bright colors that will wash you out if you have light, cool features.
Light Warm Tones
Women with light, warm skin and hair look best in dresses that are pale and soft colored. Peach, gold and aqua are wonderful choices for women with light warm tones. Dresses in lime green or coral are bright, but not overpowering of your light skin or hair. Avoid dress colors that are dark or muted, as they will wash you out. Instead of true black or pure white, choose a dress in a creamy white or warm cocoa brown. Colors with a hint of gold and some warmer navy shades will flatter women with light, warm tones.
Dark Cool Tones
Women with cool pink and blue undertones to their skin who have darker hair or eyes can wear cool blues and deep purple or burgundy. People with dark skin or dark hair with cool undertones will look great in rich, vibrant-colored dresses like black, navy and true red. Dresses in jewel tones like emerald green, ruby red, purple and fuchsia are a gorgeous accent for women with dark hair and eyes. Icy pastel colors and bright whites are also an excellent color choice for cool complexioned women with dark features; the pastels will contrast with your coloring and brighten your face.
Dark Warm Tones
Dark-skinned women with warm or ruddy complexions and red, auburn or caramel colored hair look their best in dresses in rich earthy tones. Warm colors like olive, golden brown, chocolate or orange red will accentuate your hair and eyes. Navy blue, warm grays and turquoise will flatter many women with warm complexions as well. When choosing a dress in shades of white, opt for warm shades of eggshell, cream or beige. Avoid dresses in bright colors or pastel colors, as these colors can make women with dark, warm features look tired or haggard.
References
Writer Bio
Melissa Gagnon began writing professionally in 2010. Her expertise in education, research and literature allows her to write knowledgeably for various websites. Gagnon graduated from Gordon College with a Bachelor of Science in English and education. She then attended Salem State College and completed a master's degree in teaching English as a second language.
Photo Credits
Photos.com/PhotoObjects.net/Getty Images