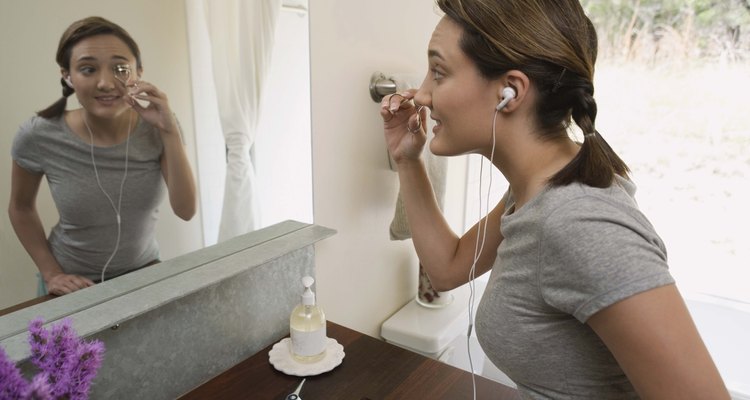 Jupiterimages/Stockbyte/Getty Images
Give your lashes some love before heading out the door and you'll be sure to liven up your looks. The trick to elongating your lovely lashes without pinching your eyelid skin is to carefully insert the lashes in the curler just until you reach the lash root. Go any further and you'll sabotage your skin. So keep your eye on your eyelash curler when applying your morning makeup, and you'll see what an eye-opening experience a little bend can be.
Start at the Top
Step 1
Place your thumb and forefinger into the eyelash curler and open it up.
Step 2
Open your eyes. Move the curler to your upper lashes and carefully place the lashes into the open slot.
Step 3
Move the eyelash curler slowly up to the lash roots. Do not go any farther. Close the curler gently but firmly. Hold for 10 seconds.
Step 4
Move the curler gradually down the lashes. Open and close the clamp and squeeze the lashes anywhere from five to 10 seconds at each stop.
Step 5
Repeat on the lashes of the other eye.
Put a Bend in the Bottom
Step 1
Flip your eyelash curler upside down.
Step 2
Open your eyes wide and tilt your head down a bit.
Step 3
Move the eyelash curler toward your lower lashes and insert the lashes. Stop right before the lash roots. Clamp the curler shut slowly and hold for 10 seconds.
Step 4
Walk the eyelash curler down the lower lashes a couple of times. Hold for five seconds at each stop.
Step 5
References
Tips
Always start with clean lashes. Apply mascara after you curl, not before.
Try using a heated eyelash curler if the manual variety doesn't do the job. Follow the manufacturer's instructions.
Add black mascara for the most dramatic look; clear mascara works for a natural look.
Try blasting hot air from your hair dryer on the rubber cushion of the curler for a few seconds. This softens the pad and may create a better curl.
Wash your eyelash curler with soap and warm water when it looks gritty from mascara and debris.
Warnings
Replace your eyelash curler pad about every two months.
Refrain from sharing your curler -- sharing makeup and makeup tools can lead to an eye infection.
An unnatural lash bend means you are squeezing too hard.
Writer Bio
Based in Los Angeles, Lisa Finn has been writing professionally for 20 years. Her print and online articles appear in magazines and websites such as "Spa Magazine," "L.A. Parent," "Business," the Famous Footwear blog and many others. She also ghostwrites for mompreneurs and business owners who appear regularly on shows such as Ricki Lake, HGTV, Carson Daly and The Today Show.
Photo Credits
Jupiterimages/Stockbyte/Getty Images