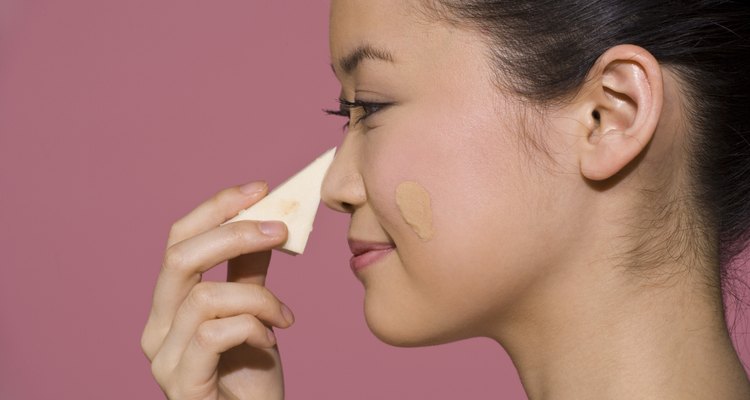 Jupiterimages/Pixland/Getty Images
When using makeup to create a flawless-looking face, it's imperative that your foundation blends seamlessly into your hairline. The key to achieving a smooth, properly blended look is to start with a foundation that disappears into your skin color. If you use the correct sponge and the right blending technique, your makeup will appear beautiful instead of blotchy.
Step 1
Secure your hair back in a hair tie or headband.
Step 2
Apply moisturizer to your entire face. This primes the skin and helps the makeup go on easier and stay on longer.
Step 3
Use proper lighting when applying makeup. If possible, use a natural light makeup mirror that mimics the brightness of the sun.
Step 4
Shake the foundation to evenly distribute the makeup. Pour a dime-sized amount of foundation onto your sponge.
Step 5
Dot the sponge on your eyelids, cheeks, nose and forehead. Refrain from areas such as your jawline and hairline during this time.
Step 6
Stroke the makeup downward and outward with the sponge. Blending this way allows the majority of the makeup to stay on the center of your face while getting thinner as it moves to your jawline and hairline.
Step 7
Turn the sponge over to a clean area. Use this side to blend the makeup up and out into your hairline. You should have a thin, smooth layer of foundation on your face without noticeable lines.
Step 8
Add more makeup to your sponge if you see gaps in your coverage. Remember to blend -- not rub -- the makeup into the skin.
References
Tips
If your foundation has a built-in SPF, you'll want to apply it liberally to your entire face before blending.
Blend in the direction of any light facial hair you may have.
A tinted moisturizer is a good option for those desiring even less coverage.
Brush translucent powder over your foundation if you tend to get oily throughout the day.
Warnings
Make sure to clean your sponge regularly with soap and water to rid it of bacteria and fungi.
Writer Bio
Based in Los Angeles, Lisa Finn has been writing professionally for 20 years. Her print and online articles appear in magazines and websites such as "Spa Magazine," "L.A. Parent," "Business," the Famous Footwear blog and many others. She also ghostwrites for mompreneurs and business owners who appear regularly on shows such as Ricki Lake, HGTV, Carson Daly and The Today Show.
Photo Credits
Jupiterimages/Pixland/Getty Images