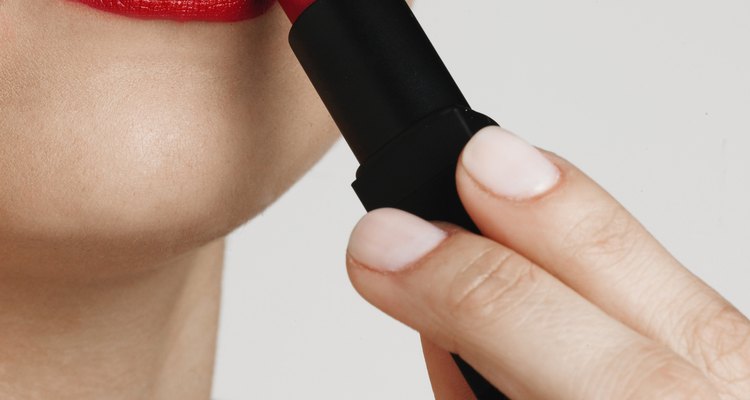 Christopher Robbins/Photodisc/Getty Images
Nothing says sexy like a swipe of lip color on your pout. If you're looking for a product that features all-day hold – whether it be for your wedding day, a special event or an early-bird meeting -- a glam and gorgeous lip stain glides on smoothly and deposits a richly hued color on your lips. The heavy pigments found in lip stains are perfectly kissable and enduring, but often difficult to remove with only a facial tissue. When you are ready to swipe a new color onto your lips -- or you just want to give your pucker a breather -- you can remove the lip stain easily using a few basic beauty products.
Step 1
Dampen a cotton ball with liquid eye-makeup remover. Blot your lips with the cotton to lift the stain off your lips.
Step 2
Smooth a pea-sized amount of petroleum jelly onto your lips to soak up the remaining lip color. Allow the product to stay on your pout for two to three minutes.
Step 3
Run a small towel under a stream of warm water. Rub your lips with the wet washcloth to remove the petroleum jelly and the lip color. Use small circular motions to clean your lips gently.
Step 4
Smooth and moisturize your lips with a final swipe of lip balm or a few dots of petroleum jelly.
References
"Fast Beauty: 1,000 Quick Fixes"; Rona Berg; 2005
Tips
If you don't want to use petroleum jelly on your lips, swipe on sweet almond oil to remove the lip color instead.
Unlike lipsticks, lip stains are not creamy or wax-based. To prevent the color from increasing any dry skin on your lips, exfoliate your pout before applying a stain.
Writer Bio
Mimi Abney is a lifestyle writer specializing in online content for women. Her work has appeared in NewsOK.com and "Keepsake Magazine," among other publications. With over 15 years of writing and editing experience for the web and print, Abney is also a contributor to online health, beauty and fashion publications. She holds a Bachelor of Science in biology from Spelman College.
Photo Credits
Christopher Robbins/Photodisc/Getty Images