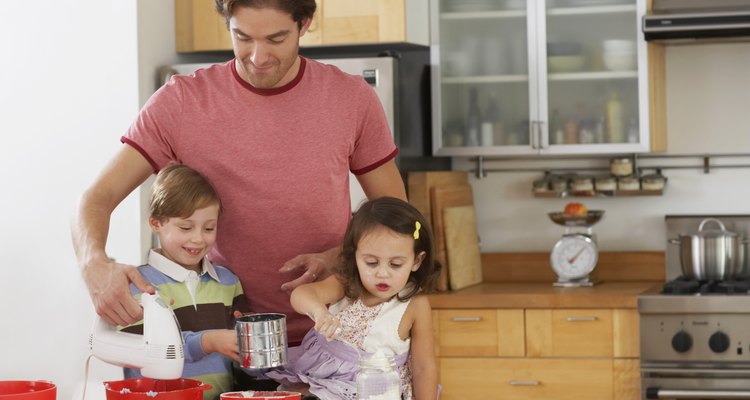 Christopher Robbins/Photodisc/Getty Images
Kids love to spoil mom on her birthday. Plan to make her a special meal -- and clean up the kitchen -- as a birthday surprise. The meal doesn't have to look gourmet to taste great. Keep the meal quick and easy by focusing on your mom's favorite foods. Remember, it's her day.
Breakfast In Bed
Start mom's birthday by bringing her breakfast in bed. Young children can build a healthy fruit parfait cup in minutes by layering yogurt, fresh fruits and granola in a clear wine glass. For a bigger breakfast, have older children wash fresh fruit while an adult makes pancakes and scrambled eggs. If children insist on taking a more hands-on approach to breakfast, let them roll precooked sausage links in croissant dough triangles to make breakfast pigs-in-the-blanket. Enlist an adult to put them in the oven to bake.
Lunch for Mom
If mom has to work on her special day, surprise her at work with a fresh-made lunch. Keep it easy by building a salad focused on her favorite fresh fruits or vegetables, served with her favorite creamy ranch dressing. If mom loves strawberries, have the children layer romaine lettuce, pecan halves and feta cheese crumbles in a bowl, while an adult slices strawberries and grapes for the top.
Mother's Birthday Beverages
Tie a special birthday meal together with a festive beverage. Make a small addition to one of your mom's favorite drinks. If she enjoys iced tea, add a splash of mango juice or fresh mint leaves to give the tea a refreshing twist. If she enjoys soda, serve root beer over a scoop of ice cream to make a float. If mom's birthday falls on a warm summer day, prepare a fruit smoothie from milk, yogurt, and frozen fruit chunks to keep her cool.
Desserts for Mom
Birthdays are the best time to splurge on a great dessert. For a simple but elegant cake, start with a boxed cake mix. Prepare it according to the package in two round pans, then embellish. Instead of using canned frosting, have the children add a thick filling of whipped cream between the cake layers. Then sprinkle on fresh raspberries, chocolate shavings or coconut flakes. Add more whipped cream to the outer layers and let the kids decorate the cake with small candy pieces. Encourage them to spell "Happy Birthday" or "Mom."
If you're short on time, have the children dip chunks of fresh fruit and large marshmallows in chocolate. Try bananas, strawberries, cherries, and orange wedges. Let the sweet fruits chill in the refrigerator until it's time to surprise mom.
References
Resources
Writer Bio
Angela Tague writes marketing content and journalistic pieces for major brands including Bounty, The Nest, Lowe's Home Improvement and Hidden Valley. She also provides feature content to newspapers and writes health and beauty blogs for Daily Glow, Everyday Health and Walgreens. Tague graduated from the University of Iowa with a bachelor's degree in journalism and mass communications in 1999.
Photo Credits
Christopher Robbins/Photodisc/Getty Images