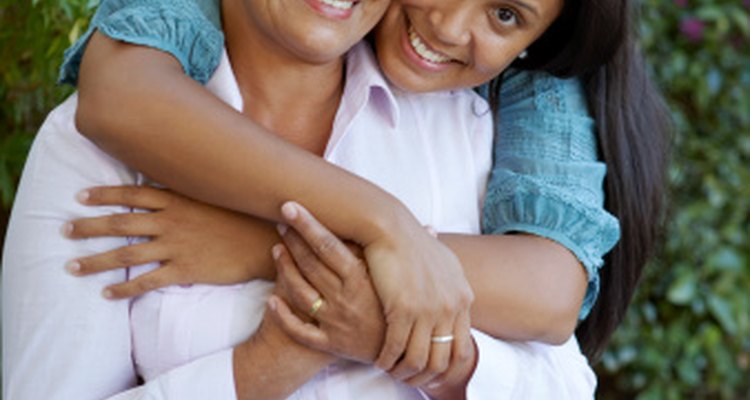 Alistair Berg/Digital Vision/Getty Images
Mothers are special and they do so much for their children growing up and as well as when they become adults. They deserve to enjoy memorable birthdays. Show how much you appreciate and love mom by giving her gifts and making plans to celebrate her birthday with her.
A Day of Pampering
Make an appointment for your mom at a day spa on her birthday. Treat her to a full day of beauty and relaxation. Include a facial, full body massage, a manicure and pedicure. If your budget permits, take her to her favorite hair salon. Give her a gift basket of her favorite perfume, scented lotions, bubble bath and candles to create a day of beauty and relaxation at home.
Spend Time
Sometimes moms appreciate just being able to spend more time with their children. Take the time to do the things that your mother enjoys. Take her to her favorite restaurant, help her tend to her garden or go shopping together at her favorite mall. If she is working on her birthday, you can show up at her job with flowers and balloons, take her to lunch and bring ice cream and cake to share with her co-workers.
Throw a Surprise Party
Just as your mom planned and gave you birthday parties when you were growing up, now it is time to do the same for her. Choose a venue to hold mom's birthday party. Hold it at your home, a restaurant or banquet hall and make a guest list of family, friends and colleagues. Make sure they know to keep it a secret. Prepare the menu and decide if the affair is going to be a formal sit-down dinner or banquet style. Provide plenty of music and decorations for the party. Tell your mother that you are planning a quiet dinner and take her to the party where everyone is waiting with gifts to yell "Surprise!"
Take-It-Easy Day
Give mom a break on her birthday by making it a take-it-easy day and do her daily tasks for her. If her routine includes cleaning her home, you can clean it for her while she sits back and reads, listens to music or watches television. Take her grocery list and pick up the items for her and get her car washed while you are out. Purchase her favorite foods and make dinner for your mother's birthday, and invite some of her friends or relatives over to celebrate.
References
Writer Bio
Janise Smith began freelance writing in 2009. She has published poetry, short fiction and various articles, with her works appearing in "Metropolitan Woman" and the "Detroit Free Press." She earned a Bachelor of Arts in written communications with an emphasis on journalism, creative and technical writing from Eastern Michigan University.
Photo Credits
Alistair Berg/Digital Vision/Getty Images