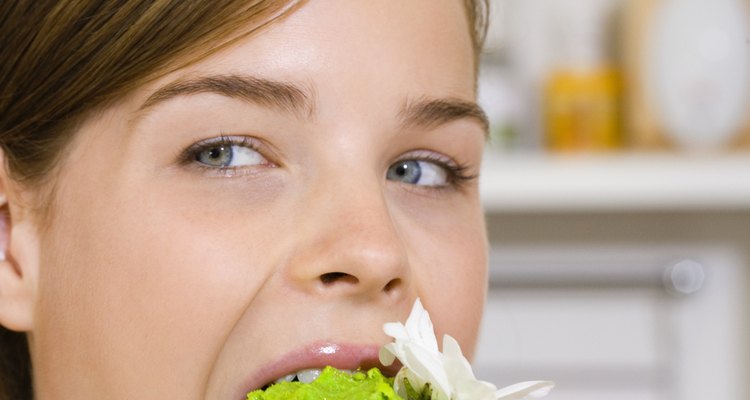 Jupiterimages/Goodshoot/Getty Images
While teenagers love having birthday parties, they don't want much parental involvement during the festivities. By offering a buffet of finger-food appetizers, you can easily feed your teenage guests without embarrassing the birthday teen with a sit-down meal. Choose a wide variety of protein and vitamin-packed options to satisfy the pickiest of teens.
Meaty Options
Teenagers live on burgers. Recreate the favorite teen food in a finger-food size. Keep the toppings simple, because most of the guests won't want to veer away from known favorites. Serve slices of sharp cheddar, Swiss or colby-jack cheeses, and a variety of sweet and spicy barbecue sauces. Hold the lettuce and tomato to win over most teenage crowds. Fill a slow-cooker with homemade miniature meatballs in a simple marinara sauce or mini franks in barbecue sauce to please guests looking for savory bites.
Vegetarian Ideas
To accommodate teens who have sworn off meat, serve a few vegetarian options. Pasta and chickpea patties or homemade lentil loaf formed into tiny burger-like servings pair well with the meaty burgers. Top the healthy legume-packed patties with a simple sour cream-based sauce, such as tzatziki, or light ranch dressing.
Must-Eat Veggies
While teenagers may not care for veggies, teens do like the dips and sauces that usually accompany cold vegetables. Serve a colorful platter of bite-size vegetables, such as grape tomatoes, baby carrots and broccoli florets. In the center of the platter, offer a variety of dipping sauces, such as chipotle dressing or ranch dip. This is not the event to introduce yellow-pepper slices or sugar snap peas to your teen's diet. Kids will avoid them simply because they look unfamiliar.
Fun Fruits
Create a simple fruit smoothie for a hot summer party. Start with a base of 1 percent milk, ice and vanilla yogurt. Then add fresh fruit chunks. For a tropical theme, choose pineapple and mango. For a fail-proof flavor, use strawberries. Add a dash of nutrient-rich milled flax seed to give the smoothie a slight nutty flavor reminiscent of a strawberry shortcake.
Finger-Food Desserts
While it's no longer cool to serve a batch of cartoon-character cupcakes, you can still opt for the hand-held treats. If your teen's birthday guest list includes pals from a school sports team, music program or drama club, play off that theme. Decorate cupcakes as baseballs, tennis balls, drama masks or frosting music notes. Or make mini cheesecake desserts by lining a mini-muffin pan with small liners. Prepare a boxed cheesecake mix and fill the individual cups. Top with a dollop of strawberry or cherry pie filling and call it good. Don't add candles or birthday balloons. You want your teenage guests to feel like they're snacking at a semi-adult party, not waiting for silly jokes and balloon tricks from a party clown.
Resources
Writer Bio
Angela Tague writes marketing content and journalistic pieces for major brands including Bounty, The Nest, Lowe's Home Improvement and Hidden Valley. She also provides feature content to newspapers and writes health and beauty blogs for Daily Glow, Everyday Health and Walgreens. Tague graduated from the University of Iowa with a bachelor's degree in journalism and mass communications in 1999.
Photo Credits
Jupiterimages/Goodshoot/Getty Images