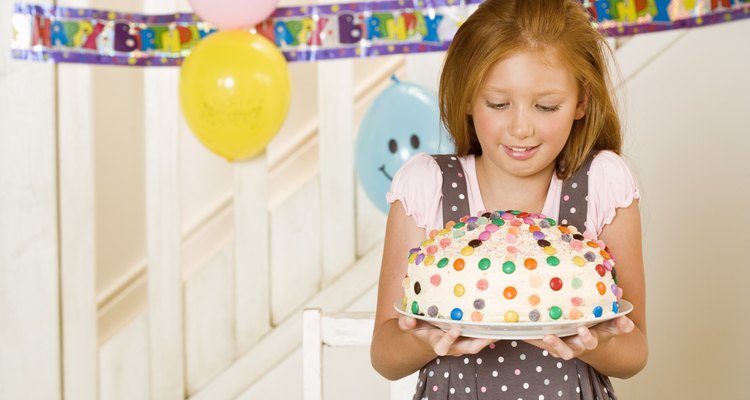 Jupiterimages/Goodshoot/Getty Images
If you ask, your 5-year-old daughter will tell you exactly what kind of birthday party she wants to have, who she wants to invite and what presents she hopes she gets. Use her ideas as your starting point for creating an unforgettable fifth birthday celebration. Make sure you have plenty of games, activities and snacks to keep her guests busy. A few well-placed decorations won't hurt either.
Theme
Sit down with your daughter and decide on a theme for her party. She might choose a fairy princess theme or a party that incorporates her love of dolls. If she's into butterflies or ladybugs, use that as a jumping off point for planning a party. An animal or horse theme is an easy one to incorporate into decorations and activities. Open up your own candy shop if your daughter loves sweets, or throw a Hawaiian bash if she's into all things luau. A dress-up party is another idea sure to delight your 5-year-old and her guests.
Decorations
Once you've chosen a theme, you can begin collecting and making decorations. Homemade decorations are far cheaper than store-bought ones, and they'll add flair to the party too. Use colored paper to cut out princess shapes, such as castles and tiaras, or to make butterflies to scatter around the party area. Craft foam in a variety of colors is another cheap way to make decorations. Turn the foam into large pieces of candy to decorate a candy shop, or use it to make large Hawaiian flowers. Streamers and balloons in coordinating colors will add an air of celebration to the party as well. Make your own confetti with a shaped hole punch and colored paper.
Games and Activities
Plan two or three games or activities to keep your daughter and her guests busy. It's always better to have more activities planned than you need, but it can be disastrous if you haven't planned enough things for your guests to do. Use colored butcher paper to make a themed version of the old standby: pin the tail on the donkey. Play pin the princess to the castle for a princess party, or pin the gumball in the gumball machine for a sweets-inspired celebration. For a Hawaiian party, play musical chairs with island-themed music. If you have a dress-up party, hold a fashion show so the girls can show off their ensembles. Themed coloring pages are a great way to keep the guests busy between activities.
Snacks
Plan snacks that complement your party theme. Serve pineapple, mango and papaya at a Hawaiian party, or set up a candy-filling station at a candy shop birthday. Set out finger foods no matter what your theme. Serve pretzels, fruits and vegetables and crackers and cheese. The highlight of the snack table should be a cake or cupcakes decorated according to your daughter's theme. Order a cake from a bakery or make your own creation. Make sure you take a picture before the guests dig in.
References
Birthday Parties for Kids!: Creative Party Ideas Your Kids and Their Friends Will Love; Penny Warner
Writer Bio
Sara Ipatenco has taught writing, health and nutrition. She started writing in 2007 and has been published in Teaching Tolerance magazine. Ipatenco holds a bachelor's degree and a master's degree in education, both from the University of Denver.
Photo Credits
Jupiterimages/Goodshoot/Getty Images