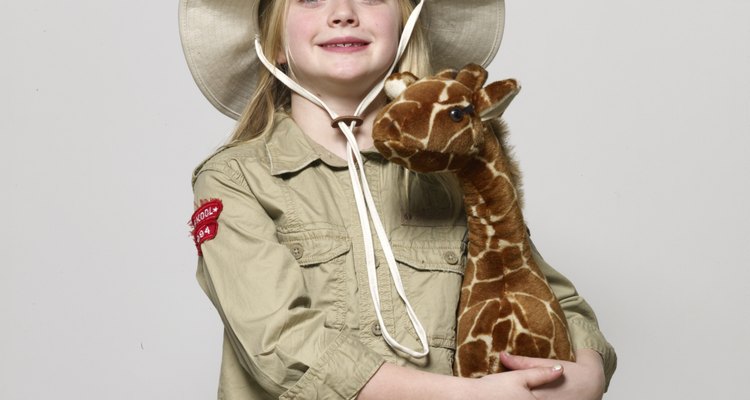 Michael Greenberg/Photodisc/Getty Images
The lush landscape of Africa, with its rich colors and even richer history, makes it a popular choice for theme parties. To pull off a successful African theme party, celebrate all that the cradle of civilization has to offer. Use decor, food and music to bring the country's essence to your party.
Invitations and Decor
Make your party feel like an African safari by incorporating animal prints into your decorations. Buy pre-made invitations with animals or animal print patterns. Use animal print or dark green tablecloths, and hang plastic animal masks over the back of each chair. Make centerpieces with votive candles surrounded by palm leaves and small plastic toy animals such as zebras and giraffes. Check party supply stores and toy stores for animal print items, animal masks and toy animals. If you can't find what you're looking for, get creative and create your own decor. Make animal-themed invitations with colored pencils or clip art, and use construction paper and markers to make animal masks. For a simpler style suitable for adults, keep the color scheme centered on earthy colors like brown, gold and green, and use palm leaves as visual accents on tables.
Music and Activities
On a continent as large as Africa, you're bound to find plenty of musical styles to choose from. Make a playlist of your favorite African tunes, such as percussive dance music from Zimbabwe, the 1970s psychedelic-rock of Zambia called "Zam-Rock," or the a cappella harmonies of Ladysmith Black Mambazo. For activities, have children make their own animal masks out of construction paper and crayons, or print out pre-drawn animal mask designs that kids can color. Teach children a little geography by having them assemble a giant puzzle of the continent of Africa, or play bocce ball with coconuts and give out stuffed toy giraffes as prizes.
Food and Drink
Look in cookbooks specializing in African cuisine for authentic recipes. Pick one region to focus on, or, for more variety, choose a sampling of signature dishes from various African countries. Try Namibian venison kebabs, marinated in curry, apricot, turmeric and onions and cooked in skewers over a grill. Serve them with South African bunny chow, a hollowed-out loaf of white bread filled with meat or vegetable curry. Incorporate signature flavors into drinks by serving rum, coconut milk and pineapple cocktails or ginger beer. For a children's party, try cupcakes with chocolate zebra stripes on the top and fresh juice served inside hollowed-out coconuts.
Dress Code
Carry the African safari theme into your dress code by having guests dress for a safari in khaki clothes, safari hats and hiking boots. Or, enforce a dress code in which "anything goes," as long as it's an animal-print. If you decide to incorporate themed attire into your party, include dress code info on the invitations so guests know what to wear.
References
Writer Bio
Jessica Taylor has been writing professionally since 2007. She has contributed a number of articles online on topics ranging from fashion to technology to travel. She has a bachelor's degree in English literature from the University of South Florida.
Photo Credits
Michael Greenberg/Photodisc/Getty Images