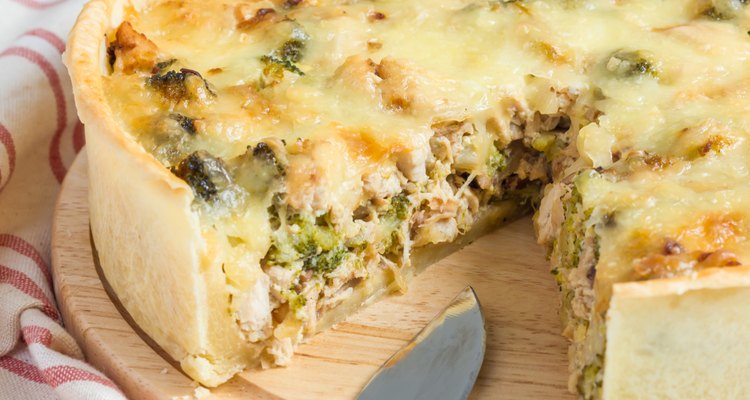 iuliia_n/iStock/Getty Images
Traditional quiche recipes feature a buttery crust and a filling made with whole milk, heavy cream and eggs. These ingredients add up to a lot of fat and calories in one slice. To lighten up quiche, begin by eliminating the crust and stretching the eggs with egg whites or a liquid egg substitute. To mimic the body and rich flavor of cream, use evaporated milk. A classic quiche contains just eggs and seasoning, but you can fill the quiche with other flavorful ingredients to make a satisfying and low-fat breakfast.
Ingredients
Author Pam Anderson, in her book "The Perfect Recipe for Losing Weight and Eating Great," presents a low-fat, crustless quiche recipe calling for 2 large eggs, 1/2 cup of egg whites, 5 oz. of evaporated milk, 2 tsp. of Dijon mustard, 1/2 tsp. of salt and 1/4 tsp. of ground black pepper. Add 1/4 tsp. of dried herbs, such as thyme, tarragon, sage or basil to the mixture if you like. Cheese is an optional addition to a basic quiche recipe, and it will increase the fat content.
Method
Preheat the oven to 400 degrees F and place the rack in the center. Spray a 9-inch pie plate with cooking spray. Whisk together the eggs, milk, mustard, salt, pepper and herbs, if using. Pour into the pie plate and bake until firm in the center – about 25 minutes. Let it cool for at least five minutes before cutting into wedges.
Nutrition
One-sixth of the recipe, without cheese, provides 65 calories and just 4 g of fat, only 2 g of which are saturated. It contains 78 mg of cholesterol. It also offers 5 g of protein and 3 g of carbohydrates.
Variations
Add any number of fillings to the egg mixture prior to baking to flavor the quiche, without notably increasing the fat content. Mix in crumbled turkey bacon and sliced leeks or chopped bell pepper, thawed frozen corn, lump crabmeat and green onions. For a vegetable version, sauté diced zucchini, a sliced Portobello mushroom, grape tomatoes and asparagus tips in non-stick cooking spray. Cool slightly and then add to the eggs prior to baking.
References
"The Perfect Recipe for Losing Weight and Eating Great;" Pam Anderson; 2008
Writer Bio
Andrea Boldt has been in the fitness industry for more than 20 years. A personal trainer, run coach, group fitness instructor and master yoga teacher, she also holds certifications in holistic and fitness nutrition.
Photo Credits
iuliia_n/iStock/Getty Images