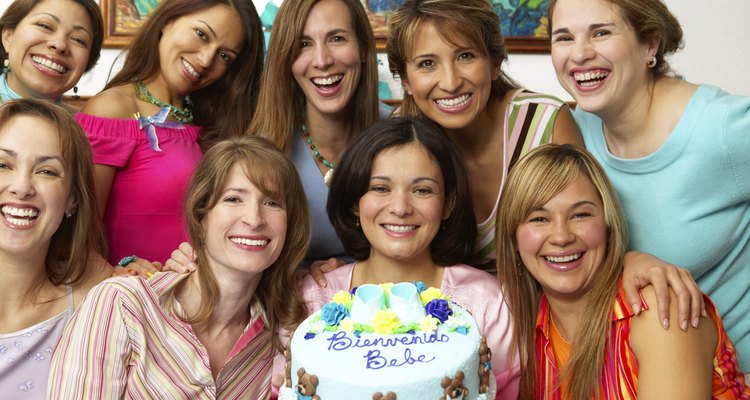 Creatas/Creatas/Getty Images
Although the food will not be the center of attention during a baby shower, it can help to set a festive mood. If you choose not to have the event catered, a simple, yet still elegant, option is to serve sandwiches. Whether sandwiches are served as an appetizer or heartier versions served as a meal, the food should take little time to prepare, be relatively easy to serve and clean up, address a number of common dietary concerns and have just a touch of elegance and/or nostalgia.
Nutella and Banana Bruschetta
This sandwich hits both the elegance and nostalgia with the perfect notes for each. A reworking of the classic PB&J or PB&B, Nutella provides a sweet and nutty chocolate that hits just the spot. Bananas add an additional level of creamy with a touch of nutrients. Served open-face on crispy bruschetta, the sandwich is a nice mix of textures and colors. Although you shouldn't cut the bananas and place them on the bruschetta until just before serving, you can spread Nutella on the bread well in advance of the event. Note that Nutella contains hazelnuts so you shouldn't use it if anyone has a nut allergy. You can find this recipe at ThePerfectPantry.com (2009).
Fruit Rainbow Wraps
This sandwich is colorful and delicious, while being both nutritious and versatile. Any number of fruits can be substituted for each other, allowing you to make adjustments for nutritional concerns, while still maintaining the colorful rainbow effect. When working with fruit, however, it is best to cut and prepare the fruit as close to serving time as possible. It might even work to serve the fruit to the guests and have them make their own rainbow. Recipe available at KBlog.LunchBoxBunch.com (2009).
Caprese Pockets
Caprese salad is a staple appetizer for dinner parties, as if fresh mozzarella, ripe tomatoes and fragrant basil were always meant to be served together. This "sandwich" takes caprese to the next level and makes it a more substantial bite by packing the caprese in wonton wrappers and then deep frying. If you prefer to stay away from fried foods, the caprese ingredients can also be served on olive oil dusted foccacia or ciabatta bread. Don't forget to drizzle the cheese and tomato with aged balsamic vinegar and olive oil before serving. Recipe available at LifesAmbrosia.com (2010).
Vegan BBQ Sandwich
Although some expectant mothers may not be on a rush to experience the joys of children's food, this adult version of a sloppy joe has the added benefit of being vegan—and ready to eat in five minutes. For a slightly more adult touch, add blue cheese or goat cheese right before serving. This sandwich is a bit on the messy side so be sure to have plenty of napkins available for your party guests. Recipe available at KBlog.LunchBoxBunch.com (2009).
Veggie Rainbow Wraps
A vegetarian take on the pinwheel sandwich, a staple party food, this recipe offers versatility in choosing the vegetables to be included, and you can easily slip in cooked chicken to add in protein. Although sufficiently flavorful with lemon juice, salt and pepper, feel free to spice up the cream cheese with ranch dip packets, onin dip packets or even certain curries. Recipe available at KBlog.LunchBoxBunch.com (2009).
Cucumber and Basil Sandwich
Simple. Elegant. Classic. Perfect for warmer weather events, these sandwhiches are easy to make, taste delicious while still being light and can easily be served cut in half or quarters. It's best to make them no earlier than the day of the event to ensure that the bread isn't soaked through by the cucumber. Use whole wheat bread for added nutrition. Recipe available at DLynz.com (2009).
Chicken-less Tarragon Salad Sandwich
Some expectant mothers choose to avoid all seafood and fish while pregnant, so chicken salad can easily replace tuna salad in this classic sandwich. But you can take this one step further and make your sandwich chicken-less as well. Trader Joe's chickenless strips are cut up and mixed with herbs and olive oil and spread over toasted wheat bread and piled high with vegetables. The salad can be made well before the event and the sandwiches require little preparation right before to be served. Most of the ingredients can be easily included or left out. Recipe available at KBlog.LunchBoxBunch.com (2009).
Peanut Butter, Green Tomato and Jalapeno Jam Sandwich
This warm and gooey take on a peanut butter sandwich gives the party guest a small taste of the clichéd pregnant food cravings. The somewhat strange pairing of peanut butter, green tomatoes and jalapeno jam may put off most people, if you tell them what's in it. The sweet, tangy and spicy flavors of the tomatoes and peppers perfectly complement the creamy, salty peanut butter. Be aware of possible peanut allergies from the guests and prepare accordingly. You may want to substitute with almond butter. Recipe available at ClosetCooking.Blogspot.com (2009).
References
Writer Bio
Chloe began her writing career in 2001 by creating a newsletter for her company. Later, she served as an editor for the "Business Law Journal." She is an avid academic, amateur chef and technophile, and has a Bachelor of Arts degree in economics with a minor in art history from the University of California.
Photo Credits
Creatas/Creatas/Getty Images