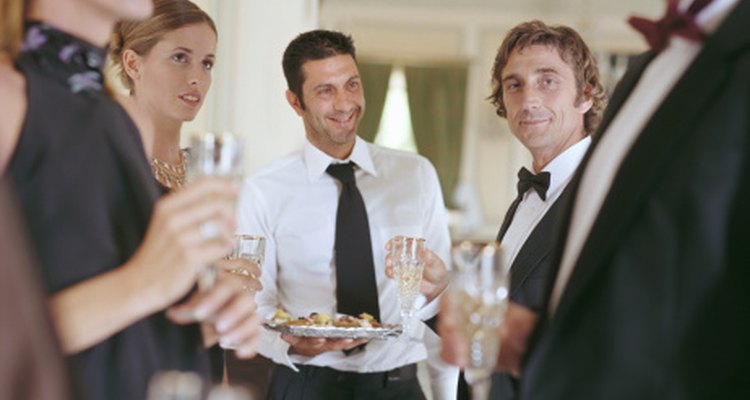 Allan Danahar/Digital Vision/Getty Images
You want the bride and groom to be full and satisfied before they walk down the aisle, especially since they will be so busy after the ceremony that they may not get to eat for hours. Offering mess-free treats to snack on in the bridal and groom suite will ensure that their finest duds don't, in fact, become duds.
Beverages
Steer clear of colored beverages. Nothing would be worse than red or brown stains on a white wedding dress or dress shirt, so stick to white wine and beer, but skip the red wine and coffee. Translucent sodas like lemon lime and ginger-ale are good options and light juices like apple and white grape won't leave a glaring stain if they spill. Offer lots of water to keep everyone hydrated while they get ready for the big day. Champagne is also a typical beverage to enjoy before the ceremony, and since it is white, drinking or spilling it should be incident free.
Appetizers
Bite-sized is best. Simple snacks for the bride and groom should be sauce and dip free. Stick to dry finger foods that can be eaten in a single bite thus avoiding drips and spills. Vegetable, fruit and cheese trays are an easy snack, but be sure to leave out things that will stain, like strawberries. Candied nuts, popcorn and chips will work, just make sure to have napkins on hand because greasy finger stains can easily ruin formal attire. Mini-quiche and pastry-wrapped bites like cheese puffs are easy to pop in your mouth and the protein in them can keep you full for quite a long time.
Main-Course
Skip any sloppy food. Break out the muffin tins to make satisfying main-course food that is single sized and mess-free. Make sure the food you serve isn't too heavy because you don't want it sitting the bride and grooms stomach during the ceremony, so lighter is better. Fresh bread buns can be stuffed with sandwich fixings like sliced meats and cheese and then baked in muffin tins to make a mess free meal. Mini meatloaf muffins and main-course cornbread muffins with ham, cheese and jalapeno peppers can be comforting and satisfying.
Desserts
Tiny treats you can fit in your mouth will keep taste buds happy and fancy clothes clean. By serving bite-sized desserts, clothes will stay crumb free and you can satisfy a sweet tooth without getting to full. Tartlets are a fresh and tasty dessert; just remember that, although they are one-bite, don't fill them with any staining fruits like cherries or strawberries just in case they take a spill on their way to your mouth. You can also serve minicupcakes in all kinds of flavors, or try decadent chocolate-covered cake balls that stay mess-free by keeping the cake and icing on the inside.
References
Photo Credits
Allan Danahar/Digital Vision/Getty Images