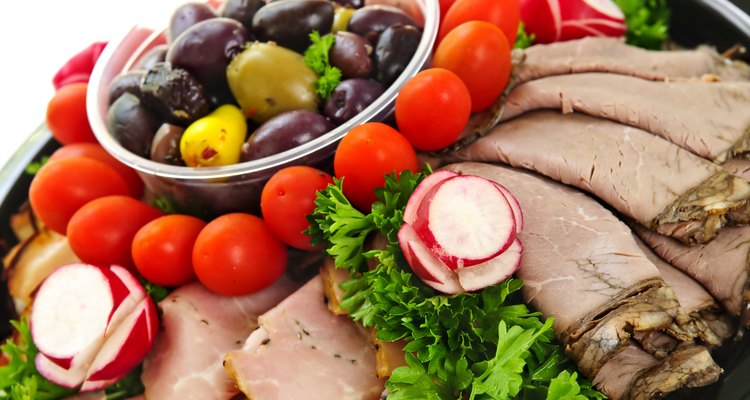 Elena Elisseeva/Hemera/Getty Images
When your guests will either be smartly dressed or so young that spillages stalk every bite, you need to look for foods that work in their favor. Sauces, grease and crumbling, flaky pastries all pose a risk, as does any food with the capacity to squirt, splash or dribble. Don't worry -- a non-messy menu does not have to champion blandness. Give it some thought, then let your guests enjoy flavorsome bites without worrying about the dry cleaning bill.
Safe Appetizers
Call on some notable international favorites that happen to be mess-free. From the Middle East, falafel are easy to handle, moist without being oily, and hold together comfortably. Serve them with a thick hummus dip for those who might find these chickpea fritters a little bland. Mediterranean cuisine, too, makes life easy for those who are both hungry and well-dressed. A plate of Italian cold cuts, including salami, mortadella, Parma ham, prosciutto and pastrami, can be rolled individually or wrapped around bread sticks. A French cheese board of blue, soft rind and hard cheeses will avoid any mishaps, but for refined, clean dining, there is little to beat sushi. Both Maki rolls, wrapped in seaweed, or uramaki rolls, with the sticky rice on the outside, conveniently bind in their precisely arranged ingredients.
Adapted Foods
A few tweaks on conventionally messy foods secure their place at the buffet. Instead of burgers bursting with relish and salad, serve sliders that can be held comfortably in one hand without the condiments spilling out. Keep the sauce and chopped onion to a minimum. Instead of pizza that can shower guests with topping and sauce, set out tortilla wraps. Don't overstuff them and choose grated cheese and raw vegetables, rather than sauce. Pasta and rice side dishes don't always go well with plastic forks and paper plates, but a well-set macaroni cheese or not-too-saucy lasagna may be sturdy enough to slice and eat while standing.
Main Courses
Turn out delicious mains that showcase natural flavors without resorting to heavy sauces. Grilled salmon steaks, for example, break up easily on the plate and won't pose the problems of bones. Serve them with a simple leaf salad, such as peppery rocket, seasoned with just salt, pepper and lemon juice instead of an oil-based dressing. Likewise, chicken kebabs will satisfy those hankering for messy buffalo wings or fried drumsticks. Skewer the breast meat by itself and rely on the strength of an herby, citrus marinade, or complement the chicken with mushroom, sweet peppers and onions, all of which should slide off easily once grilled.
Simple Desserts
Relegate cakes, mousses and creamy desserts to the bench for a clean-hands party. Instead, focus on refreshing seasonal fruits, such as melon and cantaloupe. Slice them in segments served with forks, or serve them in chunks on a cocktail stick, along with cubed pineapple, sliced strawberries and grapes. Fried beignets dusted with icing sugar or Spanish churros both pander to those with a sweet tooth, but neither has the potential to shower a guest in an eruption of cream or chocolate. Children in particular will welcome their similarity to doughnuts.
References
Writer Bio
Nick Marshall is a UK-based writer specializing in trends and best-practice in the B2B sector.
Photo Credits
Elena Elisseeva/Hemera/Getty Images