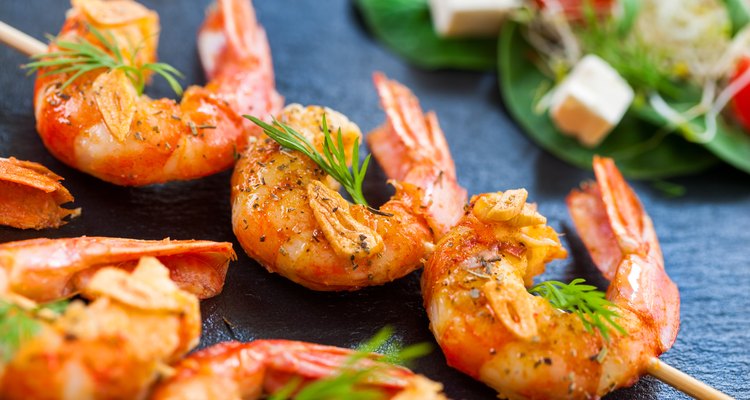 karelnoppe/iStock/GettyImages
Your guests will swoon over whatever array of seafood you set out for them, from crab legs to shrimp cocktail, poached salmon, seafood gumbo or oysters on the half shell. In addition to planning for the seafood, you'll need to think about what foods balance and complement the fish and shellfish. Equally important, plan to ensure that all the buffet food retains its quality and safety as the dinner goes on.
Safety
Meticulous attention to safety ensures that the food at the buffet doesn't harbor food-borne bacteria that can make your guests sick. Keep all the food refrigerated until the very last minute before setting it out on the buffet table, because bacteria grow rapidly at room temperature. Use slow cookers and warming trays for hot foods and bowls or trays of ice to nestle cold foods into, and don't let any foods sit out at room temperature for more than two hours.
Cold Seafood
Since your buffet is has a seafood theme, it makes sense to provide both cold and hot fish dishes. Provide at least two cold options to give your guests a choice of foods. Choose from grilled or poached shrimp served with a cocktail dipping sauce, or poached salmon served with cream cheese and either crackers or toasted baguette slices. Seafood salads include those with shrimp and orange segments, those with tuna and white beans or mixtures of seafood with a small amount of red pepper and lettuce. As appetizers, you can serve small shot glass-size portions of seafood gazpacho or ceviche.
Hot Seafood
Warm seafood dishes don't have to be the stars of the buffet. Instead, they can simply complement the cold seafood dishes and expand the overall selection. Any kind of seafood pasta dish, such as shrimp and linguine with lemon and garlic or fettuccine with lobster sauce, provide a contrast to cold seafood dishes. Or provide a seafood cannelloni, risotto with clams, curried salmon served over rice, or a stewed cod and tomato dish.
Vegetables and Salads
For variety, serve a few non-seafood items, including an entree such as pasta with vegetables, for those who are vegetarians or simply not so fond of fish. Salads that work alongside seafood include a green salad with avocados whose richness will balance seafood's leanness, a tomato and mozzarella salad, or a cold chickpea or white bean salad for heartiness. Vegetable dishes might include a fennel or celery gratin or roasted asparagus.
Dessert
Because a seafood buffet is somewhat light in texture and flavor, you can afford to provide desserts on the richer side. For a winter holiday buffet, end with rich coconut cream pie with a snowy-looking meringue topping or a sumptuous plum pudding with brandy sauce, along with an array of seasonal cookies. In the spring, serve a lemon or coconut cake. And for a fall seafood smorgasbord, serve pumpkin or apple pies or a hearty carrot cake.
References
Writer Bio
Susan Lundman began writing about her love of cooking, ingredient choices, menu planning and healthy eating after working for 20 years on children's issues at a nonprofit organization. She has written about food online professionally for ten years on numerous websites, and has provided family and friends with homemade recipes and stories about culinary adventures. Lundman received her M.A. from Stanford University.