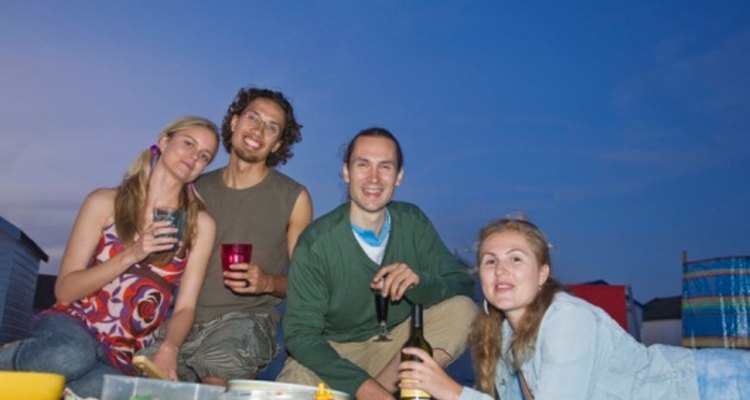 Jupiterimages/Polka Dot/Getty Images
Whether you're having big family get-together at the beach, or you and a few of your friends just want to hang out in the sun, break out the grill and enjoy a beach-side barbecue. Check with your local beach authority to determine if and where you can have a barbecue on the beach first. The most important thing when cooking outside is keeping perishable foods cold, so bring along a cooler filled with ice.
Appetizers
Simple appetizers are best at a beach barbecue where you may be in a remote location. A crab dip brought along in a cooler is best served with pita chips or crusty bread. Cut fruits such as watermelon, cantaloupe, pineapple, grapes and strawberries to make a refreshing, cool appetizer to enjoy at the beach. Grilling pineapples on a skewer pronounces the flavors even more.
Grilled Meats
The barbecue pit is the star of the show for the main dishes served at a beach barbecue. Fresh fish and shrimp are easily cooked covered in your favorite type of barbecue sauce or rub. Use skewers for shrimp for easy grilling and eating. Lobster tails and crab legs brushed with butter are ideal on a hot grill at the beach as well. Mussels and clams placed directly on the grill will open when the meat inside is cooked. For those that don't care for seafood, bring along chicken marinating in a barbecue mixture to throw on the grill.
Grilled Vegetables
Most vegetables are easy to throw onto the barbecue pit. Place squash such as zucchini, yellow squash and butternut squash on the grill after brushing it with seasoned butter or oil. Sliced tomatoes, bell peppers and onions are also easy to grill and enjoy. A veggie kabob with peppers, squash, bell peppers and cherry tomatoes brushed with herb oil and grilled is an easy way to present a variety of vegetables.
Grilled Dessert
Dessert can also be made with the grill once it has been thoroughly cleaned. Grill peaches and strawberries and top them with a dollop of ice cream. Slice pound cakes and placed the slices on the grill to make them warm and crispy on the outside, and still soft and spongy on the inside; serve the cake with whipped cream or a chocolate sauce. A fruit cobbler prepared ahead of time and placed in a foil pan can be baked on the grill while cooking the main items.
References
Writer Bio
Based in Los Angeles, Zora Hughes has been writing travel, parenting, cooking and relationship articles since 2010. Her work includes writing city profiles for Groupon. She also writes screenplays and won the S. Randolph Playwriting Award in 2004. She holds a Bachelor of Arts in television writing/producing and a Master of Arts Management in entertainment media management, both from Columbia College.
Photo Credits
Jupiterimages/Polka Dot/Getty Images