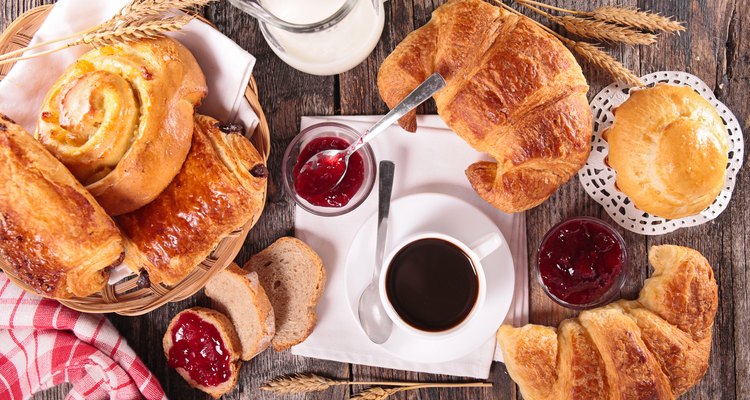 margouillatphotos/iStock/GettyImages
Potlucks take pressure off the host by distributing a little bit of responsibility among all the guests. Because you never know exactly what's going to show up at the table, the meal is often a fun surprise and a great source of variety. A potluck breakfast can include categories of foods for guests to bring, just like any other meal might ask for a main dish, side, drink and dessert. For breakfast, consider asking guests to bring a protein dish, a sweet dish or pastry, a grain dish and a fruit.
Protein
Protein is an important part of breakfast, and there is more than one way to get it. Eggs and meats are just two common ways of getting in breakfast proteins, and both can be prepared in bulk depending on the size of your potluck. Scrambling eggs ahead of time, for example, doesn't take much time -- you may even mix some ranch seasoning or melt some cheddar cheese into the eggs for extra taste. Prepare breakfast meats ahead of time, too -- this can be as elaborate as roasting a ham or as simple as frying up a few plates of bacon.
Pastries
If you love baking and sweets, whip up a batch of breakfast pastries. A few dozen muffins or cinnamon rolls, for example, can be prepared the night before and warmed up before the party begins. These and other items, like croissants and scones, can even be enjoyed cold -- bake a few batches the day before the potluck, and on the day of the party, you don't have to do anything but show up. If you want to make your pastries healthier, try using oats, flaxseed or half whole-wheat flour.
More Grains
Don't forget breakfast classics like waffles, pancakes and french toast. These batter-rich sources of grains are a savory, albeit heavy, addition to any potluck. You may consider only preparing dishes like these if you are hosting the party -- that way, you can ensure that they stay warm and fresh for potluck guests. If you are concerned about the healthiness of foods like these, try whole grain or wheat versions. Instead of drowning them in syrup, try topping them with fresh fruit, fruit spreads, nuts or peanut butter.
Fruits
Fruit plates are healthy, sweet and simple to prepare in advance -- the perfect potluck food for the busy party guest. Take some time the night before the party to slice up a variety platter of fruits, like apples, oranges, strawberries and pineapple. Keep the sliced apples from turning brown by spritzing them with lemon juice. Seedless grapes and blueberries are also common additions at the breakfast table. For a delicious fruit salad you can prepare in advance, combine an assortment of fruits with a creamy blue cheese or ranch dressing. If you want to spice things up, prepare side platters of cheese and nuts to complement the fruit while adding dairy and protein to everyone's diet.
References
Writer Bio
Tom Ryan is a freelance writer, editor and English tutor. He graduated from the University of Pittsburgh with a degree in English writing, and has also worked as an arts and entertainment reporter with "The Pitt News" and a public relations and advertising copywriter with the Carnegie Library of Pittsburgh.