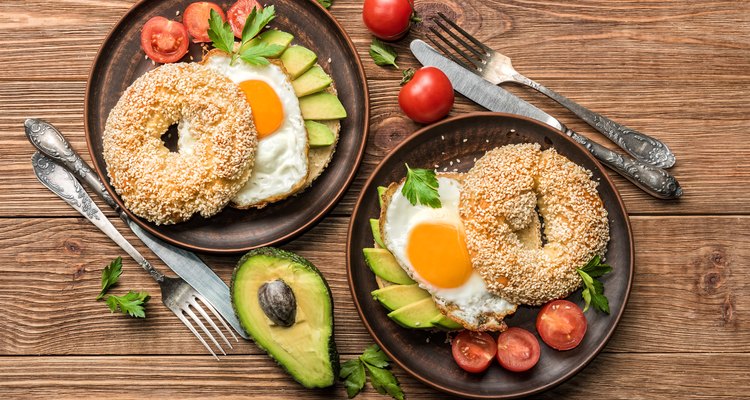 Rasulovs/iStock/GettyImages
While it's tempting to fool yourself into believing that anything eaten at 7 a.m. is appropriate as long as you and your kids have a full stomach, nutrition is the key to brain power and energy throughout the day. If you are trying to avoid pork products for breakfast, it's easy to prepare a breakfast without pork at center stage.
Alternatives to Pork
Chicken is a fine substitute for pork, and a simple egg scramble mixed with leftover cubed chicken, cheese and cooked carrots or broccoli, combines protein, dairy and vegetables into one nutrient-packed breakfast. Add some kid-friendly flavors with a ranch seasoning mix. If you're the early-bird type, top a small portion of leftover steak with a poached or lightly fried egg for the classic steak and eggs combination. A hard-boiled egg is also a fine protein substitute for traditional breakfast meat.
Smoothies
Smoothies take only minutes to blend in the morning and can be an excellent combination of dairy and fruit. Lowfat or non-fat yogurt blends with whatever fruit you have on hand to create a filling morning meal. Be a little sneaky and add small amounts of pureed sweet potatoes, carrots or broccoli to the blender. The flavors will be hidden, but you'll sneak in even more vitamins and nutrients. And if it's been a battle to get your kids to take their morning vitamin, crush it and blend it into the smoothie – they will be none the wiser, but much healthier. If you want to go all fancy, layer the yogurt and fruit to make parfaits – you can still sneak in the pureed veggies and vitamins. If you're in a hurry, a simple fruit salad that tops yogurt is still delicious.
Plan Ahead
If you and the morning hours are not on speaking terms, consider spending a little extra time in the evenings or on weekends to create a delicious breakfast that won't require much energy to reheat or to serve. A spinach-chicken quiche serves breakfast across several busy mornings; although with a little ranch-flavored mix thrown in, the kids might gobble it up in record time. Leftovers from one large batch of pancakes are quickly reheated in the microwave throughout the week. Muffin cups filled with nests of cooked hash browns, green bell peppers and onions can be refrigerated and quickly reheated throughout the week. If you want more protein, top with leftover scrambled eggs. Top these breakfasts with creamy dressing or salsa for a little kick.
On the Go
Enslist your children to help make copious batches of banana-bran muffins or lemon-berry muffins on the weekend. Freeze them and pull out a serving before you go to bed so the muffins are ready as you head out the door. Roll up tortillas filled with scrambled eggs. cheese, veggies and creamy dressing and wrap them in aluminum foil. The breakfast burritos will keep refrigerated for a couple of days. Prepare bags of homemade granola trail mix combined with your kids' favorite dried or dehydrated fruits; right before you leave, pour the mix into an ice cream cone lined with a thin coating of peanut butter and go.
References
Resources
Writer Bio
Kristie Brown is a publisher, writer and editor. She has contributed to magazines, textbooks and online publications. Brown holds a Bachelor of Arts in English from the University of Texas at Austin.